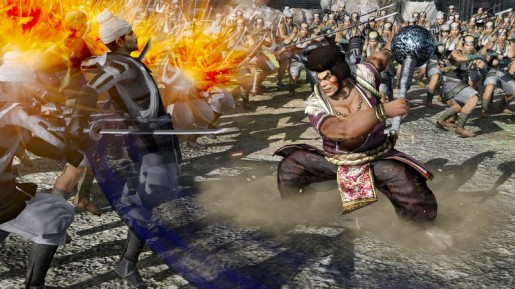 During a given scenario in Samurai Warriors 4, there's more to it than just going straight for the enemy general and taking them out in glorious combat. Often times, the enemy commander won't reveal themselves until you've taken out their subordinates or captured certain bases across the field. New missions and objectives will spring up at a rapid pace throughout a given mission and while most are skippable, they're quite handy as the rewards are usually a new weapon for the player. These objectives will pause the game to bring up a menu when you first start playing, although there is an option to turn the notifications off if they get too distracting.
Progression follows a similar path to that of Dynasty Warriors. Playable generals level up with exp scrolls or the usual path of cutting down swaths of enemy soldiers to reach the next level. As characters level up, they not only gain a boost in their fighting prowess and stats but also an expanded move list to chain square and triangle attacks into more stylish combos. New to the series is a new Proficiency system that raises a general's strength with a particular style of attack (Normal, Special Skill, Power, and Hyper Attacks) with repeated use.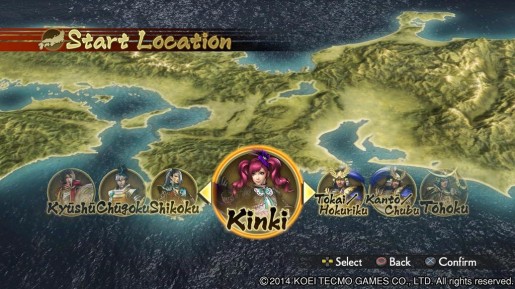 If you're looking for some more in line with cutting down hundreds of enemy soldiers and want to forego the historical scenarios involved with doing so, Chronicles Mode is a welcome addition in Samurai Warriors 4. Rather than playing a famous general from The Warring States Period, instead you can create a character of your choosing and live out a life filled with adventure and battle. It starts with the creation of a character of your liking, either male or female with a healthy amount of customization for appearance and build before setting out on a life goal. You start by picking either a warrior, scholar or merchant and have a set of tasks to accomplish as you try to conquer and subjugate Japan with more goals unlocking as you complete previous tasks.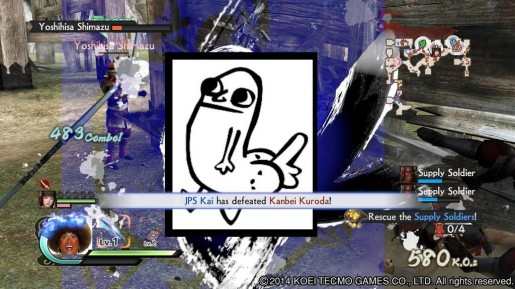 For additional customization, you can upload images from a USB flash drive and use them for custom character portraits or to replace the kanji that appears when you use a musou attack. Five weapon types are available (sword, spear, naginata, great sword, and twin swords) are available for your custom officer from the start, but by befriending other famous officers and viewing their subevents, their unique weapon stances are available for your created officer.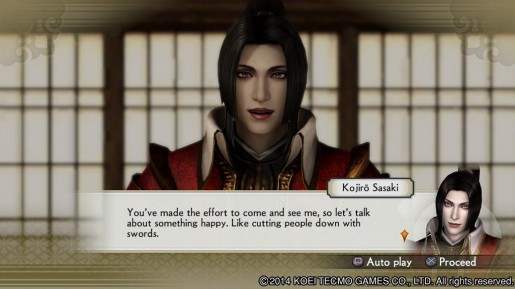 Where Chronicles Mode falls short is its pacing. As you're plotting around various points across Japan, random events will spring up at a frequent pace. New shops will open up to buy new costume pieces or upgrade your weapons, one-time item pickups, events with a famous officer, or most frequently: grand combat. Often times, just trying to get to the next objective to advance the story in Chronicles Mode will result in a gauntlet of battle after battle. An option to skip these battles would be a welcome addition, especially with many of them not offering a famous general to join your side afterwards.
Overall, Samurai Warriors 4 is a fun little historical take on The Warring States Period, offering a bit more in-depth with the rich history than previous titles in the series. Chronicles Mode, while filled with pacing issues and a lot of random encounters, is an enjoyable diversion and where players will spend most of their time with a newly created officer. It's one of the best Samurai Warriors to date and I can't wait to see what Omega Force can do next with more time on the PlayStation 4.
[Editor's Note: Samurai Warriors 4 was reviewed on the PlayStation 4 platform. Review code was provided to us by the publisher for review purposes.]
Samurai Warriors 4 (PS4) Review

,