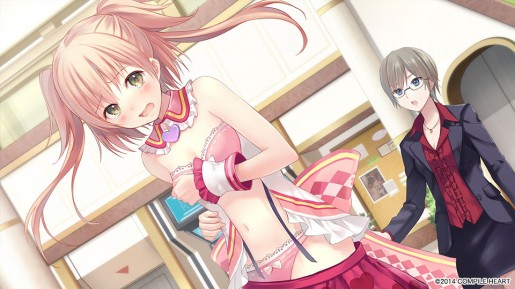 Idea Factory International's debut title for the PlayStation 4, Omega Quintet, has been announced for a local American release.
The idol simulator-slash-role playing game will be released in North America as well as Europe starting Spring 2015. Not only will it feature a digital release, but there will also be a physical run of copies for those that prefer to have something they can display on their shelf. If you happen to have either a PlayStation Move controller or the PlayStation 4 Camera, new functions are available to you in game. A nice story synopsis is available below for your browsing pleasure,
Story

In a world overrun by a mysterious, malevolent darkness, the only hope for humanity rests in the music of singing idols known as "Verse Maidens". Wielding weapons of sound, they are tasked with fighting back evil and restoring the world, but it won't be easy! These five plucky girls –with the help of their manager Takt–will have to give the performance of a lifetime to stop this darkness from claiming the last of humanity. Will they be able to band together and blow this evil away, or will they fight only to discover that the darkness has been lurking within them the whole time…?

Key Features

Power of music! Harness the power of song to defeat evil! Every fight is a performance, and you've gotta give the audience what they want! By entering "Concert Mode" you'll get boosts from your music, as well as be able to fill up your Voltage Gauge faster to perform special skills.
Break a…garter? It may be the end of the world, but you've also got idols on your hand and they must always be ready to perform! You'll be able to customize their outfits, accessories, hair, and more! Be careful, though, because sustaining hits from the enemies can cause a "Costume Break", which will compromise their outfits and leave them vulnerable to more damage!
Lethal harmonies! An idol group combines their talents to create beautiful harmonies, and with the "Harmonics" system, you can sing your enemies right into their graves! Create deadly super chains of attacks, utilizing each idol's skill in the right order to keep the pain coming –it'll be music to your ears!
Dance or die! Create performances for your idols and share them with the PlayStation 4 Share function! You can build each routine, move by move, and even use the PlayStation 4 Camera to project yourself into the performance, as well as the Move controller to add special effects! The better your shows, the more moves you'll be able to pass onto your idols!