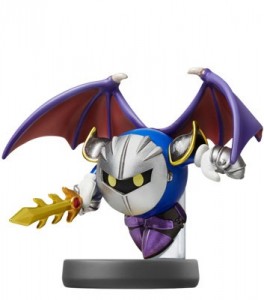 Following the trend of Shulk being exclusive to GameStop, Meta Knight will also be available from only one retailer in North America.
The Halberd captain with the blue cape will be exclusive to Best Buy when he arrives in the third wave of Amiibo figurines early next year. Wave one of Amiibo figurines will be available tomorrow to coincide with the Super Smash Bros for Nintendo WiiU launch with a second wave arriving in the coming weeks. No official date has been announced for either Meta Knight or the third wave of Amiibo figurines, although it has been stated that they will be available sometime in February
Preorders are already open for Shulk at GameStop, so it's only a matter of time before interested gamers can put their $5 down towards the Meta Knight Amiibo at Best Buy.