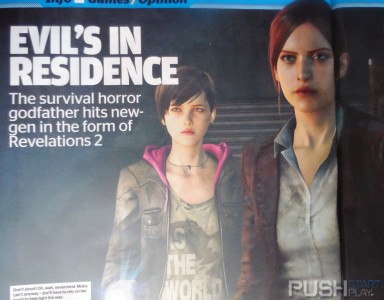 Over the past week, plenty of new information has been circulating around the internet regarding a new Resident Evil game. No, not theremake that's slated to hit consoles early next year. This one is a followup of sorts to the 2012 entry, Revelations for the Nintendo 3DS. Gaming publication GamesMaster has an article running on Resident Evil Revelations 2 that has been listed online by its readers.
For starters, Resident Evil Revelations 2 will focus on Claire Redfield, nearly 10 years after her debut in Resident Evil 2. The story itself will take place between the events of Resident Evil 5 and 6. Fighting alongside her is Moira Burton, daughter of longtime series veteran Barry Burton. The setting is an abandoned detention facility and focuses on the two girls waking up after being abducted. Gameplay will be driven closer to survival horror, a style that the original Revelations strived to return to. Both girls can be played together in a co-operative fashion with another player, or the game can also be played completely solo. Playing as Claire will be more combat-focused, whereas Moira will be more of a support role, providing flashlight or healing support. Revelations 2 producer Michiteru Okabe had this to say about the game.
I want this to be both a game that doesn't lose what made its predecessor great, while also bringing something new and exciting to the Resident Evil series.
Resident Evil Revelations 2 will be arriving on both PlayStation 3 and 4 as well as Xbox 360, Xbox One, and PC in early 2015. The game will be targeting 1080p graphics and 60 frames per second. To read more on the Games Master article, consider subscribing to their publication or picking up the November issue when it hits store shelves in Europe.