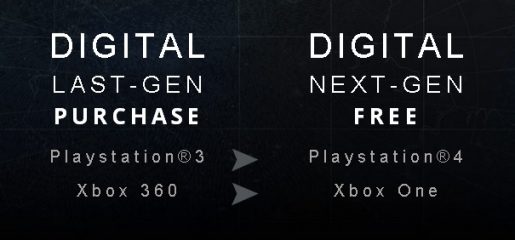 Activision has recently unveiled plans to unleash extra savings for those that want to go the all-digital route for Destiny or perhaps play the game before purchasing a next-gen console.
For a limited time after Destiny launches on September 9th, gamers that purchase and play the Digital or Digital Guardian Editions of Destiny will be granted an upgraded version with one small catch. To take advantage of the digital upgrade promotion, gamers will first have to purchase a PS3 or 360 version of Destiny. From that point on, players will just have to 'purchase' the applicable PS4 or Xbox One version of Destiny at a discounted price of $0.00. This promotion will run from Destiny's launch next week until January 15, 2015.
In addition to the digital upgrade, any progress made in Destiny will be transferable between consoles in the same console family. This means PlayStation 3 and PlayStation 4 will play together, just as Xbox 360 and Xbox One. Bungie doesn't have the same miracle workers on their team that could make cross-family transfers possible as Blizzard could with Diablo III. There is no extra effort required on the part of the gamer to transfer their character between consoles, as Bungie's server side tools can make it work automatically.
Whether you participate in [the Destiny digital upgrade] or not, your Guardians, progress, stats, and gear are shared within a console family (PlayStation®3<->PlayStation®4 or Xbox 360<->Xbox One) and will be waiting for you when you transition to next-gen.
Destiny launches worldwide on September 9th. Be sure to check back next week for our full review!