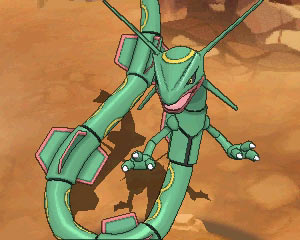 Nintendo confirmed that Rayquaza, the legendary Pokemon featured in Pokemon Emerald, will be coming to Pokemon Omega Ruby and Alpha Sapphire.
In a press release statement released by Nintendo and the Pokemon Company, Rayquaza in Omega Ruby and Alpha Sapphire will be somehow related to the mystery of Mega Evolution. With Rayquaza appearing in both games, fans will most likely be able to catch it. Pretty much aside from Groudon and Kyogre, trainers all over the world will be able to get Rayquaza. We'll let you know how when the game officially releases in the coming months.
Pokemon Omega Ruby and Alpha Sapphire is due out this November exclusively for the Nintendo 3DS. As always, check back with us near the release date for our review of the game.