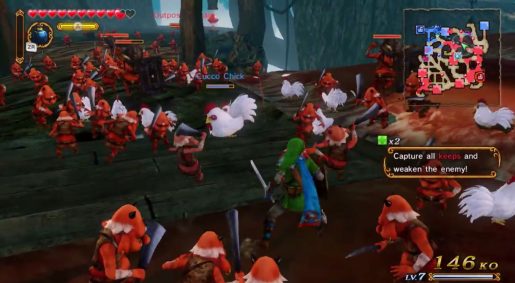 There's a fair bit of hand holding involved at times, as the game will force you to double back and babysit an ally commander so they don't get mobbed down by the enemy and force a mission fail. Often times when you can avoid helping out your allies and go straight for the enemy leader, but it's purely on a mission-by-mission basis. With the ally A.I. incapable of keeping themselves alive for very long, it's any wonder how the enemy can either. Entire mobs of enemy soldiers just stand by at the ready for Impa to cleave them down with her signature giant blade.
On the other hand, the mini-bosses and enemy commanders are a much more engaged affair. The tricks you've learned on bosses from previous Zelda games carries over into these elaborate encounters. Dodongos are still as vulnerable as ever to the power of a well-placed bomb down their throat and Stalfos knights still can't protect their backs properly. The moblin guards from Skyward Sword have taken a few classes from the school of guarding and can wield their shields to block incoming attacks, even strapping it to their back to prevent a backstab.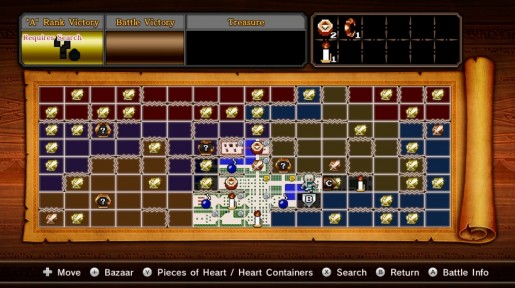 Perhaps the best addition to Hyrule Warriors is the Adventure Mode. Available from the moment you turn the game on (with later stages locked away behind story progression), The playable map is set up as the original Legend of Zelda overworld map, with each spot on the grid representing a new playable mission. Common staples of Link's arsenal such as compasses or candles can be used to unlock rewards in each stage that you'll have to beat to unlock. Most stages will also hold gold skulltulas or have A-ranking rewards depending on the character you bring to battle. Some characters or special weapons can only be unlocked in Adventure Mode, so it's worth checking back often after progressing deeper into Legend Mode.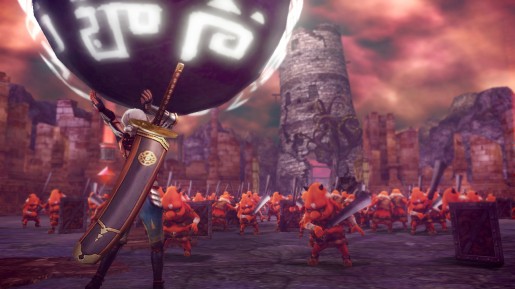 One area where Hyrule Warriors succeeds is its technical prowess. Omega Force has certainly harnessed the power of the Wii U and gotten the game to run at a solid framerate across the many missions I've played. Enemy pop-in is still a thing, but you won't notice it much beyond the dozens of enemies that fill your screen at a given time. Even when filling the screen with bombs or one of Lana's icy signature attacks, the game refused to get choppy or slow down to a crawl as is common with other Warriors titles. The attention to detail doesn't stop there, as environments are faithful to their game counterparts, sound effects still invoke that nostalgic charm, and the music has largely been overhauled with the signature heavy rock anthems the Warriors series has been known for while still retaining those memorable melodies.
The single greatest problem that plagues the Warriors franchise is the sense of repetition. It's this deciding factor that ultimately polarizes the series, no matter which timeline or spinoff, even Hyrule Warriors. Every character has their own signature feel, and those with multiple weapons all perform differently than the last. In the end, you're running around the same missions as before and slaying the same moblins by the thousands. Your mileage may vary with your tolerance for repetition, so if you're a newcomer to the Warriors titles, you may want to ingest this one in smaller doses.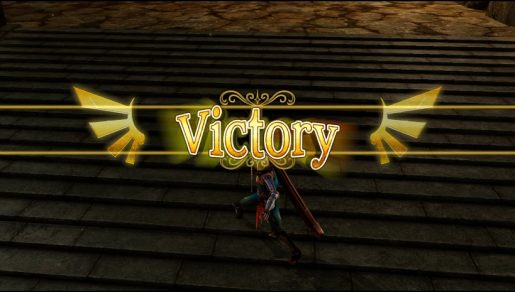 Hyrule Warriors is a shining example of what a fresh approach to an established franchise. While undoubtedly more Dynasty Warriors with a fresh coat of Zelda paint. What's in the game is all quite enjoyable, I only wish there was more of it to mix things up. As one of the more memorable titles in the Wii U's library this year, it's worth taking a run through Hyrule Field and slaying some moblins along the way. Just please refrain from taunting the cucco.
[Editor's note: Hyrule Warriors was reviewed on the Nintendo Wii U. Review code was provided to us by the publisher for review purposes.]
Hyrule Warriors Review

,