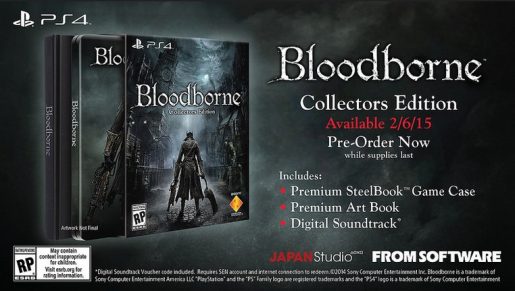 Bloodborne, the upcoming PS4 exclusive from Dark Souls' veterans From Software, has finally been given a release date and a shiny collector's edition to boot.
Included with the Bloodborne collector's edition is a copy of the PlayStation 4 game, premium art book, digital soundtrack (a voucher to redeem on the PSN store), and a cardboard slip cover to house it all. This collector's edition is slated to release at $79.99USD.
Now, for those of you who pre-order the game, either at your favorite participating retailer or through our digital PlayStation Store, we've got an exciting pre-order DLC for you. In Bloodborne, hunters have special companions called Messengers that have creeped up out of the nightmare world and facilitate some of the asynchronous online gameplay features. If you pre-order Bloodborne, you will be treated to an exclusive alternate skin for your Messengers.
Bloodborne will launch in North America on February 6th, 2015 exclusively on the PlayStation 4.