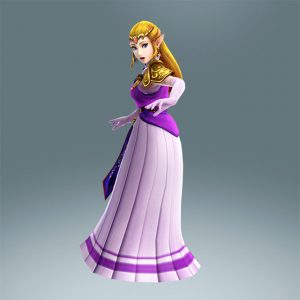 The first of the three retailer exclusive costume packs has been unveiled for Hyrule Warriors, this one based off of the N64 era Ocarina of Time.
Three costume DLC packs were announced as preorder incentives for Hyrule Warriors. Both Link and Queen Zelda each receive a costume based off a mainline Nintendo from the last three consoles. Ocarina of Time from the N64, Twilight Princess from the Gamecube (and Wii), and Skyward Sword from the Wii console.
The Ocarina of Time costume back has been revealed to be a Gamestop exclusive preorder bonus. Twilight Princess has been hinted as being exclusive to Amazon, although not confirmed yet. Skyward Sword has not been listed for a North American retailer although the top contenders for that would be either Target or Best Buy.
Hyrule Warriors launches in North America on September 26th, exclusively for the Nintendo WiiU. Check back next month for our review and exclusive guides to help you get the most out of this action-packed title!