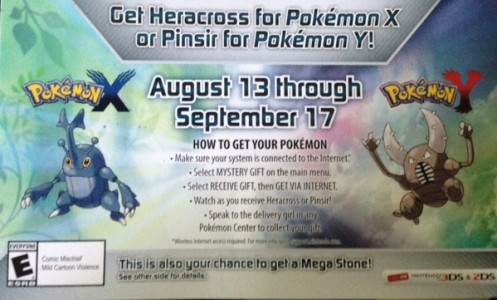 Gamestop is rolling out a temporary promotion to grant players an exclusive Mega Stone to evolve two particular pokemon in their own versions of Pokemon X and Pokemon Y.
A regular Heracross and Pinsir are available for any owners of Pokemon X/Y just through the Mystery Gift functionality on the main menu of these games. To unlock your mystery gift, select MYSTERY GIFT from the main menu, select RECEIVE GIFT, then GET VIA INTERNET. These pokemon will be delivered to the delivery girl at any of the region's Pokemon Centers.
Gamestop stores across the USA are giving away one-time use voucher codes to unlock these exclusive Mega Stones. Pokemon X is given a Heracronite to unlock Mega Heracross or a Pinsirite to unlock Mega Pinsir in Pokemon Y. These Mega Stones are given through a scratch code on the backs of promotional cards at participating Gamestop stores. Similar to the free pokemon listed above, you'll need to go online with your copy of Pokemon X/Y and go to the MYSTERY GIFT option. This time, select RECEIVE GIFT, then GET WITH CODE and enter your voucher code. Again, travel to any Pokemon Center and speak with the delivery girl to receive your free Mega Stone for your game version's Pokemon!
Some Gamestop locations are using this promotion to bolster pre-order sales, so a $5 deposit towards Pokemon Alpha Sapphire or Pokemon Omega Ruby may be required. Supplies on these promotional vouchers are limited, first come first served.