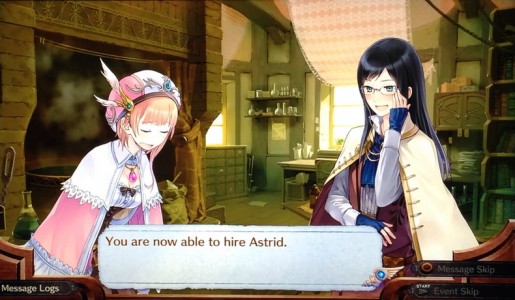 It would be quite a disservice to the Atelier series to skip over talking about the alchemy and crafting systems of the game. Rorona may start out as an alchemist in training, but she quickly hits the books and goes to work on improving her modest skills. Once she's gathered up enough raw materials from out in the world or bartered for at the local shops, it's time to mix them together in her giant cauldron. Recipes are given to her on a fairly regular basis, from kingdom assignments and rewards to tomes for sale in shops to even finding them out in the world in various treasure chests. Most of the recipes Rorona comes across are flexible and open to her own interpretation. Many recipes ask for a specific type of item (metal ingot, plant, oil, et cetera) and Rorona has full creative control of those recipes. As every base material has its own level of quality and skill set, it takes a creative mind to combine raw materials into new items and keep transferring the important skills forward. For example, a plant picked up might have a skill that boosts the wearer's attack stat by a sizable amount. Synthesizing that plant into an oil lets you carry the attack skill forward into a new item which you can then imbue into an ingot and use that to make a new armor or weapon.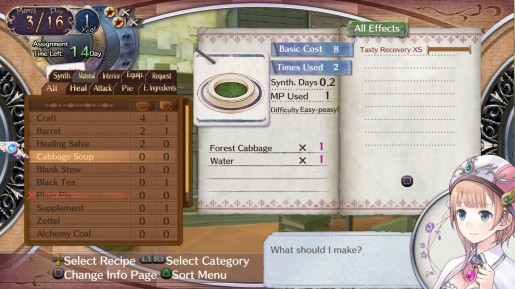 Rorona Plus is open enough to allow players to interpret (most) recipes and equipment as they see fit and some item combinations certainly are powerful enough to break the game, but it takes a certain bit of ingenuity to piece it all together. If you're looking to bypass many of the large boulders in the game, crafting an Ice Bomb that has the skill Ice M (requiring a sufficiently high ice stone to hit that skill) then putting that into a 'Balbomb' will have enough power to crack most any boulder Rorona comes across early on.
As a whole product, Atelier Rorona Plus is a very competent RPG with improved combat and crafting mechanics that make the day-to-day routine much less of a chore. Combat feels more enjoyable then ever and it's just as easy to break the game's difficulty with crafting the right bomb or weapon. For those looking for a light-hearted RPG that's unique with its crafting side of things, a trip to Arland should be in your immediate future.
[Editor's note: Atelier Rorona Plus: The Alchemist of Arland was reviewed on the Playstation 3 platform. Review code was provided to us by the publisher.]
Atelier Rorona Plus (PS3) Review

,