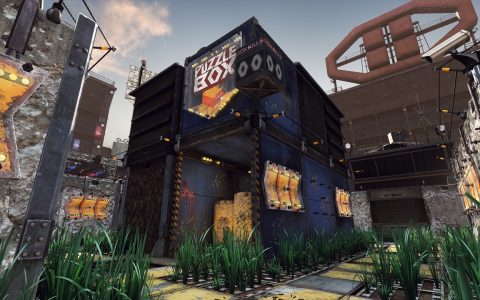 The fourth and final map pack for Call of Duty: Ghosts is set to drop and gamers won't have to wait long to try it out for themselves.
Dubbed 'Nemesis', the fourth map pack for the Call of Duty: Ghosts season wraps up the quartet of packs spelling out ODIN (Onslaught, Devastation, Invasion, and Nemesis). Each of the four multiplayer maps offered are small-to-medium scale, offering players more of the run and gun experience they've come to expect with Call of Duty. This season is wrapping up just in time for gamers to get their fill before Call of Duty: Advanced Warfare launches later this November. Nemesis follows the structure of the previous three packs by offering four new multiplayer maps as well as an extra chapter for Extinction. Nemesis is set to arrive August 5th, 2014 first on Xbox One, with other platforms to follow.
Goldrush: is set in an abandoned gold mine in the Southwest United States, where an intricate network of cavernous tunnels and perilous shafts create the ideal setting for medium to long range combat; while two mine carts race along the abandoned tracks offering players a fast way to traverse the map. Players who complete the unique field order on Goldrush will unleash a howling pack of wolves that will descend upon their enemies.
Subzero: drops players into a frigid Canadian submarine base that has been hastily evacuated, with control room, submarine pen and research facilities all left eerily empty. Built around the traditional three-lane design, this medium-sized map harbors a mysterious terror that will decimate your enemies upon completion of the map's unique field order.
In Dynasty, players are transported to a lakeside Chinese village surrounded by picturesque mountains, vivid gardens, and spectacular architecture – a serene environment that is anything but Zen-like. Multiple pathways crisscross the village in this medium map with a variety of elevation and numerous back alleys that create flanking routes. The unique field order on "Dynasty" allows players to call in an air strike of vertical takeoff fighter jets, while one lingers behind to give you unmatched air superiority.
Nemesis cranks the frenetic multiplayer action to unprecedented levels with the fourth multiplayer map, "Showtime," a sadistic reimagining of the smallest map in Call of Duty® history, the fan favorite map from Call of Duty® 4: Modern Warfare® "Shipment." In the futuristic arena of "Showtime," blind corners and narrow pathways provide momentary reprieve from the outright mayhem within the central square comprised of several shipping containers. Tight confines call for shotguns and SMGs. Survive long enough to be rewarded with one of three killstreaks: lethal automated gun turrets at key locations on the map, an air drop with multiple care packages or a deadly gas attack that forces the action back into the center of the arena.
Episode 4: Exodus. Following the CIF Unit's harrowing escape from the alien underworld and the successful recovery of Dr. Cross and the cortex, the team has flown in to fight off the Cryptid army's siege of the last bastion of human resistance. Your mission is to get key personnel to safety by restoring power to the shuttle and launching the shuttle to a low earth orbit space station. "Episode 4: Exodus" gives players unprecedented control of their escape route – choose your path, gather new intel, craft new weapons – and introduces the deadliest of enemies with a range of lethal powers, including mind control and psionic attacks – the Ancestors. As the battle for our survival draws to a close, the fate of mankind is in your hands.