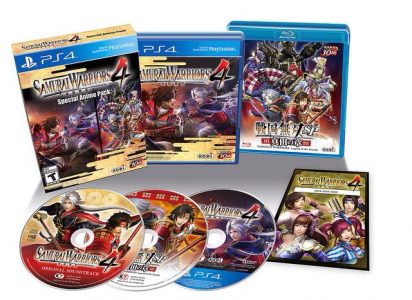 In a surprising move for Koei Tecmo, the latest release in the Samurai Warriors franchise will be receiving a collector's edition when it hits US shores later this year.
Dubbed the 'Special Anime Pack', this year's release of Samurai Warriors 4 includes a number of pack-ins not usually found in a Warriors game. Included with the game is a copy of the anime Samurai Warriors: Legend of the Sanada on blu-ray, the official soundtrack to the game, and a selection of DLC costumes for nine of the characters.
For those looking for more DLC, Koei Tecmo has announced various pre-order incentives depending on your retailer of choice. For those that prefer to get the game at Amazon or Best Buy, you'll receive new weapons for 25 of the characters as well as costumes inspired by the original Samurai Warriors release. At Gamestop, their bonus includes extra stages and items as well as special costumes for Mitsunari Ishida and Toyohisa Shimazu.
No price has been announced for the Samurai Warriors 4 collector's edition yet. Samurai Warriors 4 will launch in North America via retail channels (Playstation 4) as well as digitally (Playstation 3 and Playstation Vita) on October 21st.