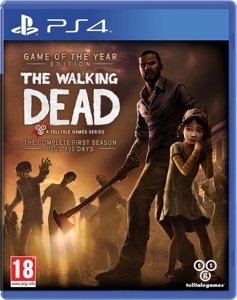 Telltale Games has been one of the most successful developers of the last few years with the critically acclaimed The Walking Dead and The Wolf Among Us. However, the developer has yet to make the jump to next-gen consoles, though there have been plenty of reports to suggest it is coming in the past. Now, several retailers have posted listings for what they are calling The Walking Dead: Game of the Year Edition for Xbox One and PlayStation 4 that seem to be pretty legitimate, with the same cover art used on all three.
Most times when we get listing of unannounced games, they come from foreign retailers that aren't usually known, but this time the game has been posted on the websites of three very reputable retailers, Amazon UK, Gamefly, and Gamestop. The listing says that this Game of the Year edition comes with the entire first season, including the 400 Days DLC, as well as an original soundtrack from the game.
The game is listed as $29.99 on Gamestop, with a release date of July 30 on Gamestop and Gamefly, and July 25 on Amazon UK. Telltale Games has not responded to any of these reports yet, but with a release that soon if it is real, I expect an unveiling pretty soon, perhaps at E3.