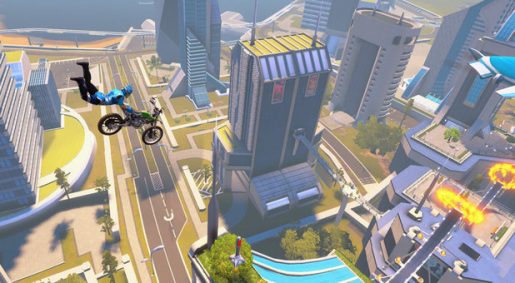 Prepare for insurmountable rage and overwhelming joy to wash over you in waves, Trials is back. Trials Fusion is RedLynx's fifth installment and the first time the series has landed on both a PlayStation system and the new current gen consoles. The speedy, physics-based platformer has moved its insanity into a dystopian future where seemingly Portal-inspired A.I. narrate the events. Riders will race, jump and bail across various futuristic locales, meaning you will always have a beautiful new backdrop to enjoy while your rider crashes face first into the dirt/snow/metal factory floor. It's a game that is equally punishing in its design and satisfying in personal accomplishment. That's a hard balance to strike, yet Trials does it well. Fusion is no different in this regard.
Courses kick off fairly straightforward. Players will re-learn the simple mechanics of leaning, flipping and intelligent use of the throttle. In no time players will be doing bunny hops, backflips and wheelies, but the comfort provided by the first grouping of levels will quickly fade. Soon, levels become intricate, punishing courses whose very purpose is to make you fail due to the slightest miscalculation. Distributing the rider's weight improperly or trying to squeeze in an extra flip were common mistakes on my part throughout the game. Sometimes it came down to choosing the wrong bike (they all have a different feel), although the new TKO-Panda ATV felt good across various scenarios. Given the intensity of later levels, these are mistakes you can't afford. Fortunately, there are checkpoints between the start and finish line, allowing you to tackle each track segment by segment with little punishment outside of obtaining a lower end medal.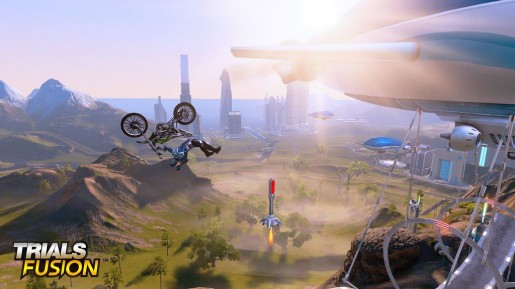 There are four medals available — bronze, silver, gold and platinum — with the top tier medal being reserved for speedy perfectionists. It can be disheartening to fall shy of the requirements needed to unlock the next set of levels. Many a time I found myself so relieved to complete a level and earn bronze only to find out I needed to get a silver to progress on to the next set of 40+ futuristic tracks. Frustration will undoubtedly set in as you try again and again, listening to the same dialogue repeated numerous times accompanied by slowly loading textures. But no matter how much the game tipped the odds against me, I couldn't shake that "I'll just give it one more go" feeling.
That's the core of Trials. The building frustration of failure is always overcome by the intense satisfaction of personal accomplishment when you finally traverse a difficult track with impeccable timing and finesse. It will always keep you coming back, whether you're aiming for a better medal or besting a friend's time.
The injection of FMX mode and skill games help mix things up. Skill games follow after each group of levels. One called Big Air has the player bailing off of their bike on a downward slope, rocketing them through the air. The goal is to maximize the distance the rider is thrown down the slope. It sounds easy enough, but to get the gold you'll have to time the bail just right. FMX mode adds a trick system into the standard courses, requiring daredevil stunts to be strung together between jumps. It was heart-pounding enough just trying to land a triple backflip during regular races. Now imagine having to perform a superman and get your rider firmly planted back on the bike's seat before touching down. These tricks are something to behold, but they can impact weight distribution in unusual ways. During one run, I kept trying to go for the same trick, but it resulted in my rider backflipping endlessly despite my input in the opposite direction.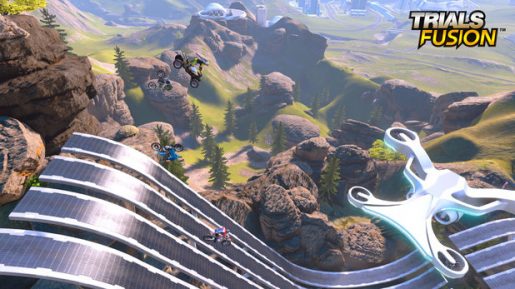 When you're done fighting against the courses alone, you can jump into 4-player races and FMX courses to go head-to-head against your friends. Sadly, this mode contains simpler tracks than single player and is limited to local play, restricting the fun to those in your immediate vicinity. You can also build tracks to share. I'm sure most people will build devious, near-impossible courses that will test everyone's patience and surely result in a rise in broken controllers.
Overall, Trials Fusion is a great game, even though it isn't a major move forward for the series. The responsiveness and complete sense of control are as solid as ever. And so are the variety of tracks, which range from snowy industrial areas to ever-changing, Tron-inspired factories. There is definitely a steep learning curve that kicks in and later levels will surely separate long-time fans from casual players. The game only disappoints with its somewhat underwhelming local co-op mode, texture pop-in and inconsistent FMX trick system. RedLynx still has us hooked, however, and we encourage you all to take this game for a spin (or two).
Trials Fusion Review

,