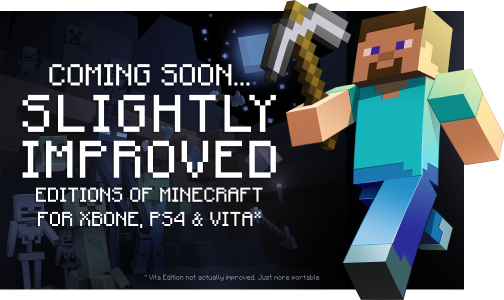 The Minecraft phenomenon started merely on the PC, but expanded into so much more in the last few years, with releases on the Xbox 360 and PlayStation 3 selling like crazy. It came to no one's surprise when it was revealed that the game was also coming to the Xbox One, PlayStation 4, and PS Vita, but now we finally have a release window.
Mojang revealed that Minecraft for these two next generation consoles and Sony's handheld will arrive this coming August. The Xbox One and PlayStation 4 versions will cost $19.99, but if you already own it on Xbox 360 or PlayStation 3, you can upgrade to the respective next-gen versions for only $4.99.
Those that own the PlayStation 3 version will also be able to get the PS Vita version for free, thanks to cross-buy. Look for Minecraft on these three platforms sometime later this summer.