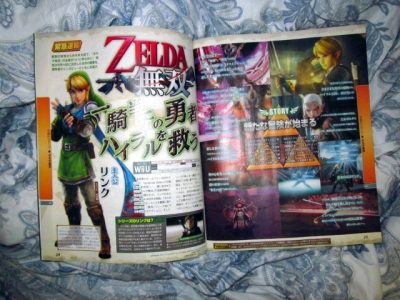 Last night, we brought you the news about a release date in Japan for the highly anticipated Hyrule Warriors courtesy of Famitsu. Luckily, the release date wasn't all of the information found in the magazine as we've learned a small bit about the story, as well as the reveal of a familiar character.
Thanks to Nintendo Everything, we have information based on translations of the article in the magazine itself.
-Premium box will be available for at least 10,000 yen (exact amount unknown)
-Retail release is at least 7,000 yen (exact amount unknown)
-Digital release is at least 6,000 yen (exact amount unknown)
-Producers: Hisashi Koinuma, Yosuke Hayashi
-Supervisor: Eiji Aonuma
-Developers: ω-Force / Team NINJA
-Link sets off to rescue Princess Zelda
-Zelda has been kidnapped by the evil witch Shia
-Link, Impa, Shia introduced in the magazine
-Some of Shia's minions shown as well
-Shia might be under control of a force of dark magic (not clear)
-Locations include Hyrule Field
-Will have unexpected playable characters
With the release scheduled for only a few months away in Japan, we should learn plenty more at E3, including if characters like Impa will be playable.