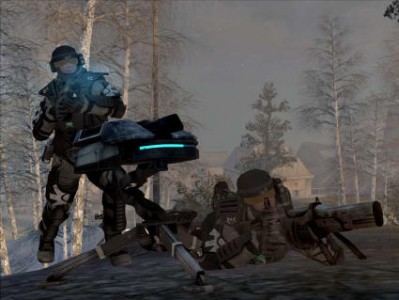 Not every game company can afford to keep their online services running indefinitely and Electronic Arts is no exception. As part of an ongoing rollout of server migration from Gamespy services over the past year. EA has been slimming down their servers and shutting off online connectivity to titles such as Fight Night Round 3, FIFA Soccer prior to year 2010, and other yearly franchises.
Up next on the chopping block are a large series of titles affected by the shutdown of Gamespy servers, scheduled for later this month. EA will be keeping many servers online for another month before shutting them down on June 30th, 2014. Among the affected are Battlefield 2, Battlefield 1942, Command and Conquer: Generals, and Crysis. You can check the full selection of affected titles below.
EA's official statement on the Gamespy server migration is as follows:
"Since GameSpy's announcement, our teams have been working to evaluate options to keep services up and running. Unfortunately, due to technical challenges and concerns about the player experience, we do not have a solution at this time. Online services for EA games on the GameSpy platform will be closed down at the end of June."
You can check the full selection of affected titles below.
June 30th, 2014 — Online Services Shutdown

Battlefield 1942 for PC and Mac (including The Road to Rome and Secret Weapons of WW2 expansions)

Battlefield 2 for PC (including Special Forces expansion)

Battlefield 2: Modern Combat for PlayStation 2

Battlefield 2142 for PC and Mac (including Northern Strike expansion)

Battlefield Vietnam for PC

Bejeweled (r) 2 for the Wii

Bulletstorm for PlayStation 3

Command & Conquer 3: Tiberium Wars for PC and Mac (including Kane's Wrath expansion)

Command & Conquer: Generals for PC and Mac (including Zero Hour expansion)

Command & Conquer: Red Alert 3 for PC and Mac

Crysis 2 for PC

Crysis for PC

Crysis Wars for PC

Dracula – Undead Awakening for the Wii

Dragon Sakura for Nintendo DS

EA Sports 06 for PC

F1 2002 for PC

FIFA Soccer 08 (KOR) for the Wii

FIFA Soccer 08 for Nintendo DS

FIFA Soccer 09 for Nintendo DS

FIFA Soccer 10 for Nintendo DS

FIFA Street 3 for Nintendo DS

Full Spectrum Warrior: Ten Hammers for PlayStation 2

Global Operations for PC

GREEN DAY: ROCK BAND for the Wii

James Bond: Nightfire for PC

Madden NFL 08 for Nintendo DS

Madden NFL 09 for Nintendo DS

Master of Orion III for PC

Medal of Honor: Allied Assault for PC and Mac (including Breakthrough and Spearhead expansions)

MySims Party for Wii

MySims Racing for Nintendo DS

MySims SkyHeroes for the Wii and DS

NASCAR Sim Racing for PC

NASCAR Thunder 2003 for PC

NASCAR Thunder 2004 for PC

Need for Speed: Hot Pursuit 2 for PC

Need for Speed: ProStreet for Nintendo DS

Need for Speed: Undercover for Nintendo DS

Neverwinter Nights 2 for PC and Mac

Neverwinter Nights for PC, Mac and Linux (including Hordes of the Underdark and Shadows of Undrentide expansions)

SimCity Creator for Wii

Skate It for Nintendo DS

Sneezies for the Wii

Spore Creatures for Nintendo DS

Spore Hero Arena for Nintendo DS

Star Wars: Battlefront for PC and PlayStation 2

Star Wars: Battlefront II for PC and PlayStation 2

THE BEATLES: ROCK BAND for the Wii

Tiger Woods PGA Tour 08 for Nintendo DS