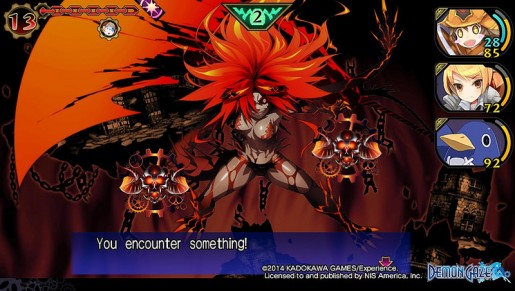 The structure of gameplay in Demon Gaze follows a fairly simple routine: get a request from the innkeeper for some new demon that's been spotted, go to their domain, locate and close down demon portals one by one so that the demon has no place to run off to (there's always at least one guaranteed encounter with the demon before you close these portals, so it's handy to always prepare and recuperate before attempting these), before lastly facing off against a more powerful version in combat.
There's a semblance of multiplayer component in Demon Gaze for those that connect online to the network before each dungeon crawl. After connecting online, the player downloads Gazer Memos, which are exactly what they sound like: messages left behind by fellow gazers across the world. By using preset messages and words and a consumable item known as Magic Chalk, other players can leave you messages similar to those in the later Dark Souls games. Usually these point to hidden treasure or warning before an upcoming boss fight. Some can be helpful, some can be misleading, and others, well…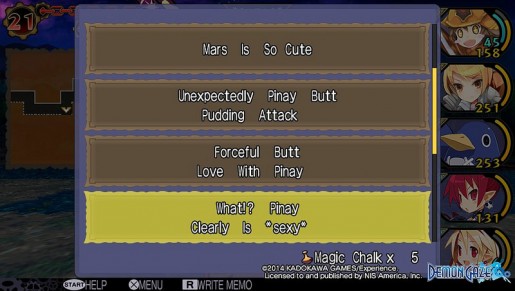 Demon Gaze's perhaps strongest appeal is in its sense of difficulty. From the moment the game opens up and the gazer enters his first battle, the challenge to the game presents itself. At its default difficulty level, combat proceeds at a gentle pace, slowly ramping up over multiple encounters. More difficulty options are available from the resident mortician, allowing players to customize how difficult their dungeon exploration is to their liking. While some enemies may first be simply be overpowered with the gratuitous use of auto-attack, others require a bit more finesse. The use of buffs/debuffs, especially those that affect hit and evading, become a common pillar of combat. A healer will often spend more time casting Holy Shield or bolstering the party's stats than any actual healing.
Of the game's eight classes (one being exclusive to the main character), a party of five could be made up of nearly any combination and still find some form of synergy. With no healer in the group, a Healer Staff could substitute with its infinite casts of a ~30 HP cure. Just as any other party-based games, there are combinations that work better than others for obvious reasons. To offset this and allow players the freedom they want, occasionally artifacts can be found throughout gameplay. These artifacts each contain one skill accessible to any other class, with the more powerful ones usually only attainable much later on. With five artifact slots per character, there's a great option of customization to give characters the right balance of skills. Both the Dual Wield and Slash skills are extremely useful for any melee focused class and are each attainable in the first couple dungeons of the game. The first allows the equipping of any two one-handed weapons (class permitting), the latter being a zero-point skill that hits every enemy in a row. As with many RPG's, there's a particular tipping point to the difficulty in Demon Gaze. With enough grinding and proper planning, once you eke past that tipping point, a particular dungeon becomes a walk in the park for but a brief moment before the next area continues the challenge anew.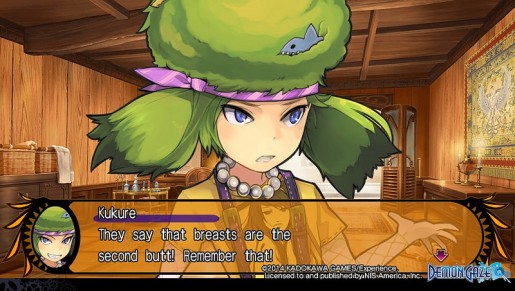 Demon Gaze is a role-playing game that very rarely tries to hold itself seriously. Like many other games under the NIS library, much of the dialogue between characters is comedic and only rarely touches upon a serious matter. Plenty of fan service moments pop up from time to time which help to break up the monotony of grinding and exploration.
Gridders like Demon Gaze are usually such a unique genre that many only appeal to a specific type of gamer. With its colorful characters and difficulty (or not) that can be tailored to each player's tastes, Demon Gaze not only only helps to expose new gamers to the genre but also has enough content to keep veterans of the genre appeased on the Vita.
[Editor's Note: Demon Gaze was reviewed on the Playstation Vita. A copy of the game was provided by the publisher for review purposes.]
Demon Gaze (PS Vita) Review

,