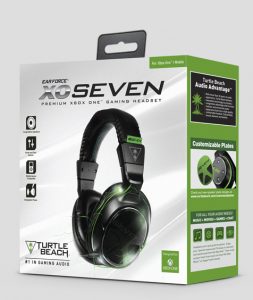 There are tons of headsets out there that you would come across when looking to buy one, but one of the premier companies for video game headsets has long been Turtle Beach. Thanks to a long track record of quality products under a wide range of price ranges, the company has found its niche after being in the audio industry since the 1970s. A few months ago, we reviewed the Titanfall Ear Force Atlas headset for the Xbox One and Xbox 360, which we very much enjoyed, and now we have gotten our hands on one of the first headsets designed specifically for the Xbox One, the officially licensed Turtle Beach Ear Force XO Seven Premium Xbox One Gaming Headset.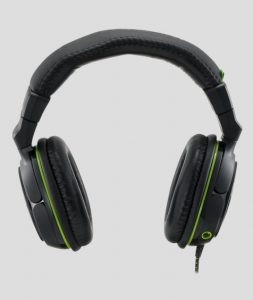 When you first open the packaging you will find another box inside that houses the headset itself, which is a very high quality box that can be used to store your headset, if you so choose, in-between uses. Upon opening this box, you will get a glimpse of the headset itself, along with the few included cables and quick start guide. Compared to the Ear Force Atlas, this one definitely comes with less cables to have to keep up with, due to being specialized for the Xbox One.
The design of the XO Seven is fairly simplistic, but fits the aesthetics of the Xbox One perfectly. The color scheme consists of mostly black all around, with green used for some stitching and other outlines on the headset. This fits along with the solid black Xbox One console and the green that was made synonymous with Xbox through the company's first console. This sleek look is more what most gamers are probably looking for in comparison to the specialized design found with the Titanfall headset, as it likely would have only attracted fans of the game. This one however would fit perfectly along with just about anybody's gaming collection.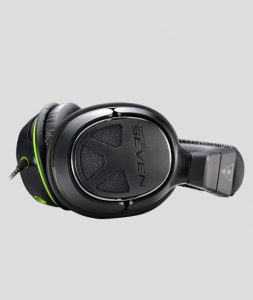 One of the most important aspects of any headset is how comfortable it is on your head, as you want to have the ability to use it for hours on end if you are addicted to the latest game. I thought the Ear Force Atlas headset was quite comfortable, but it doesn't even compare to the XO Seven. From the second I put it on my head and over my ears, it almost instantly contoured to my head. The memory foam ear cushions are as soft as you can imagine and are to the point where you barely feel like they are around your ears, which is a problem found with a lot of headsets. When you are going to be using something like this for hours, you have to find one that won't distract you due to uncomfortableness, and this one fit the bill perfectly. Really the only complaint I would have to have about the ear cushions is, that due to the leather-like material used, it could cause you to sweat a bit around your ear area in longer gaming sessions.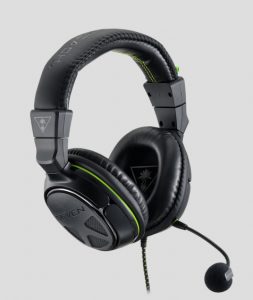 These ear cushions also do a fantastic job at isolating the noise inside the headset, to where you won't be distracting others around you if you have it up loud. A lot of headsets have this issue and just sound like random noise to those sitting around you, but this one certainly does not. Not only that, but the outside noise is fairly isolated from you as well when wearing the headset, which allows you to immerse yourself even further into the game you are playing or movie you are watching.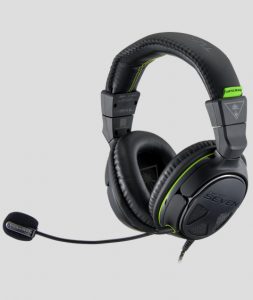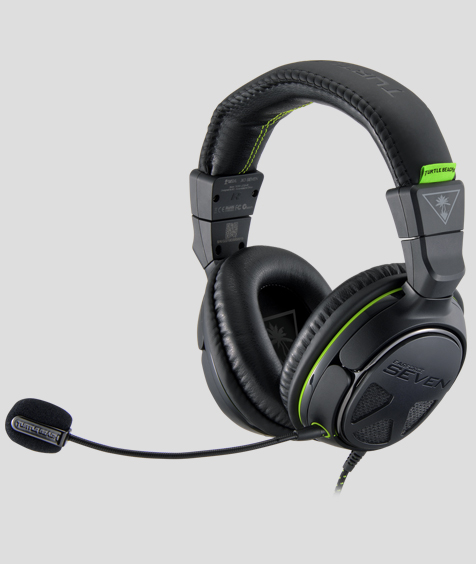 As you would expect from Turtle Beach, especially with a premium gaming headset, the sound quality is nothing but superb. From the moment you put the headset around your head and start a game up, you will find extremely crisp sound regardless of what you are using it for gaming, movies, or even Skype, depending on your connection of course. Really the only thing missing from the sound aspect of the headset is the fact that it does not have 5.1 Dolby Surround like some other Turtle Beach headsets. However, that is just one feature that this one happens to be missing among a slew of what is included in this one headset.
Turtle Beach Ear Force XO Seven Premium Gaming Headset Review

,