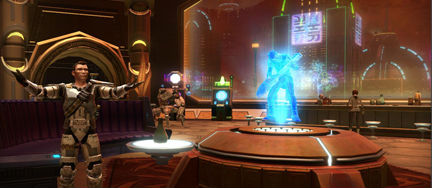 BioWare announced today that there will be a slight delay on the promised early access of SWTOR Galactic Strongholds expansions for subscribers this June.
Instead of June 24th, the new early access date has been moved to August 19th. The reason behind the delay was due to BioWare feeling that the content originally planned was not enough. That being said, expect more content when the early access launches on August 19th.
This additional time allows us to add:

Conquest Events: use the power of your Stronghold to dominate these events and earn rewards
Guild Flagships will now offer expanded functionality for Guilds:

Provide powerful buffs to Guild members from orbit
Transport entire groups to your personal coordinates instantaneously
Compete in Conquest Events to conquer entire planets

New Stronghold: Tatooine Homestead
Vehicles, Mounts, Pets, and Companion Characters can be placed as decorations in Strongholds

Combine that with the original feature list…

3 unique Player Strongholds, one on each Capital World plus the Nar Shaddaa Sky Palace
2 faction-specific Guild Flagships (Valor-class Cruiser for the Republic and Harrower-class Dreadnaught for the Empire)
Legacy Stronghold Storage
Ability to gain Prestige tracked on Prestige Leaderboards
Hundreds of Decorations to discover and collect

…and the result is an expansion that's worth waiting for!
For more information, check out the official post over at the SWTOR site.