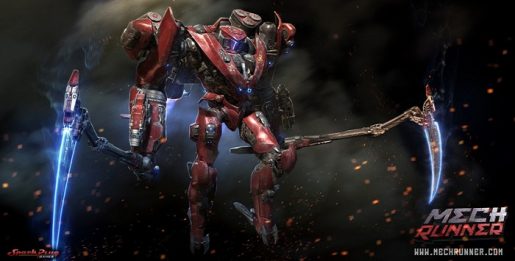 Spark Plug Games is a very young indie developer, who has had releases like Puzzle Quest 2 and Escape From Frankenstein's Castle. Now, they have announced perhaps their biggest game to date, MechRunner.
Coming this summer to PlayStation 4, PS Vita, and PC, MechRunner looks to bring plenty of action to these platforms.
MechRunner is a high-octane endless action game that casts you as a powerful mode-changing mech. Blast your way through decimated urban landscapes at incredible speeds while switching between robot and tank modes to rain punishment on endless waves of mechanical foes. MechRunner features exciting, non-stop action, stunning 3D visuals and a Hollywood-style soundtrack.
One of the most exciting pieces of news with the game is that they have partnered with Josh Nizzi, a veteran film industry artist from movies such as The Avengers and Transformers, to help bring the world of MechRunner to life. To help put the finishing touches on the game to make it the best it can be before its release this summer, a Kickstarter page has also been started, which you can check out right here. The announcement trailer for the game can also be found below: