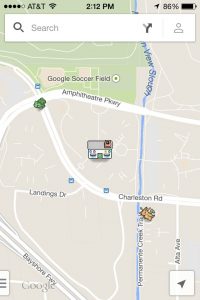 It's that day that we've all come to both love and hate on the internet, April Fools Day. We do get some pretty hilarious and awesome April Fools pranks from sites on the web, but it also makes us really disappointed when some extremely awesome things don't end up being true. One such example of that is one of Google's pranks known as the Google Maps Pokemon Challenge.
The Google Maps Pokemon Challenge utilizes Google Maps of course and lets you track down Pokemon on physical maps and capture them through your phone upon finding them. The contest says that you have until April 2 at 2:00 PDT to find as many as you can and the ones who found the most will be brought to Google for the final round, which of course is a joke.
However, while the thing is a prank, you can still actually participate in the fun by going to the most up to date Google Maps app on your mobile device and click search and hit the Poke Ball with start. At this point you can go all around the globe on the map to find Pokemon. Of course, it's not like the video showcases, but is interesting to check out none the less.