Beware Planet Earth is a tower defence game from Lightmare studios which tasks the player with defending small herds of cows from marauding Martians. There is a story mode which features 46 level split over 4 seasons as well as 18 bonus challenges, with two difficulty levels to choose from (normal and veteran). So is this just another superfluous entry into an over-saturated genre, or is Beware Planet Earth actually worth your time?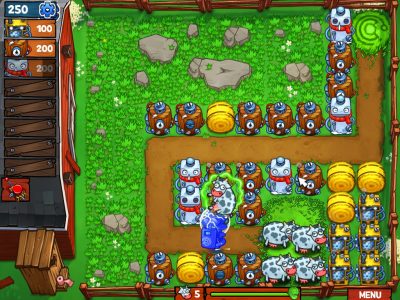 The game shares many mechanics with other tower defence games, in this case opting for a fixed route which enemies merrily walk along towards you, with pre-ordained slots where you can place machines with which to mow them down. There are 20 machines on offer and, some of which you really need in every level to simply generate cash with which to purchase further machines. In all but the first few levels you'll need to select a limited roster of machines to use which is a familiar feature many tower defence titles share.
Less cookie-cutter though is the addition of a 'zapper' with which you can manually attack the Martians seeking to steal your cows. Generally this comes across as more of a gimmick than anything, especially when it comes to using it to break open hay bales to get money out. That said, wacky little gimmicks are par for the course in this genre and the zapper does at least give you something to do when you're waiting for your scrap machines to give you the next bit of cash.
Beware Planet Earth has a cutesy art style which suits the subject matter well and makes failure all the more distressing; the cows just look so sad when you lose (though equally happy when you win)! While you can play the game in a full screen mode I would recommend against it: the game doesn't change aspect ratio leaving you with black bars on the sides. This is a little disappointing, but playing the game in a window doesn't detract from the experience significantly.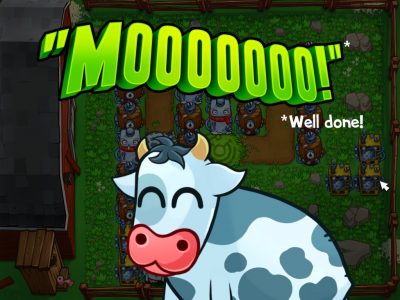 What this game offers isn't anything drastically different to its forebears but it is still a well-executed example of the genre with nice graphics and solid gameplay. For those who've played a tower defence game or two in their time the veteran mode is tough enough to still provide an entertaining challenge. At a price of £6.99/€7.99/$9.99 (available on Steam) it's pretty easy to recommend to fans of this type of game as long as you aren't expecting anything revolutionary.
Beware Planet Earth Review

,