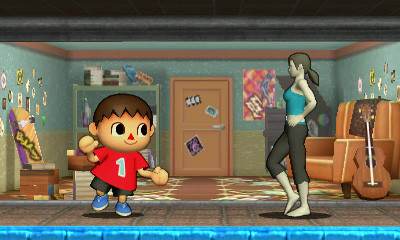 Earlier this week, we saw the reveal of new stage for Super Smash Bros. on the Nintendo 3DS based on Animal Crossing. To cap off the week, many expected we'd get a reveal we know is coming eventually, Yoshi, with the release of Yoshi's New Island today. However, Masahiro Sakurai decided to go a different route by revealing the second new Nintendo 3DS stage of the week.
Pic of the day. Looks like someone's enjoying the bachelor life in this pad.
Most probably will have no idea what this new stage is based on the description or image, but it's actually from a Japanese exclusive Nintendo DS game known as Tomodachi Collection. This life-simulator took gameplay similar to The Sims and Animal Crossing, but with the use of Miis instead. This is certainly an interesting choice for a stage, and hopefully we will get some more off the wall stages like in the past Super Smash Bros. games.