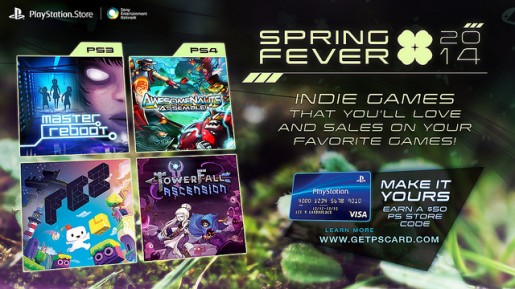 Sony is constantly bringing us wonderful sales through their PlayStation Store and this time it is part of the annual Spring Fever sale, which will run from now through the end of the month. We will have at least one game releasing each week that PS Plus members can save on instantly at launch.
The following are the lists of Spring Fever indie game sales for each week, with the first number representing the PS Plus price, with the second being the full price of the game.
3/4 – 3/10
Awesomenauts Assemble (PS4) $7.99 $9.99
Master Reboot (PS3) $11.99 $14.99

3/11 – 3/17
TowerFall Ascension (PS4) $11.99 $14.99
Vessel (PS3) $7.99 $9.99

3/18 – 3/24
SteamWorld Dig (PS4, PS Vita) $7.99 $9.99
Luftrausers (PS3, PS Vita) $7.99 $9.99

3/25 – 3/31
Fez (PS4, PS Vita) $9.99 $12.99
There are also some themed sales coming these weeks, including ones revolving around Need For Speed from March 4 to 10, Call of Duty from March 11 to 17, Grand Theft Auto from March 18 to 24, and Bioshock from March 25 to 31. On top of those, there are also some movies and TV shows on sale each week in the PlayStation Store, so check out the full list of sales on the official PlayStation blog right here.