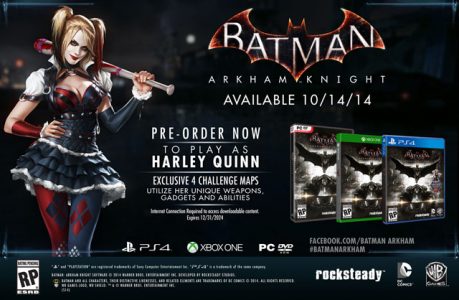 Earlier today, Batman: Arkham Knight was revealed as the conclusion to the series of Rocksteady Batman: Arkham games for PlayStation 4, Xbox One, and PC. Later, we brought you the debut trailer for the game and now we have even more info. All of the information from Game Informer and the publisher only stated a release of 2014, but Gamestop has taken it a step further by saying it is coming October 14, 2014.
This isn't just a typical listing of the game either, as it includes a special image they made with pre-order bonuses that have the release date listed at October 14. Pre-ordering at Gamestop will give you the ability to play as Harley Quinn in four challenge maps where you can utilize her unique gadgets and weapons.
While this date isn't official, it seems pretty likely due to the actual image used by Gamestop. We'll just have to see for sure in the near future.