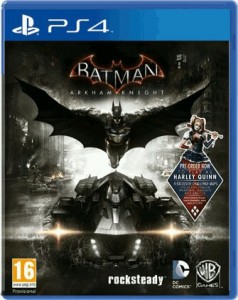 All day long we've been bringing you plenty of information about the newly announced Batman: Arkham Knight and we have something else for you tonight as well. The cover art for the game has been revealed, which shows the previously mentioned Harley Quinn pre-order bonus that at least Gamestop will be providing.
For those that haven't seen any information earlier today, Batman: Arkham Knight is the final game in trilogy of Batman: Arkham games from Rocksteady, with the return of Kevin Conroy in the role as well. The Batmobile is central to the gameplay of this game according to all of the early information, so there is no surprise it is front and center on the cover art.
Look for Batman: Arkham Knight on PlayStation 4, Xbox One, and PC later this year, with a rumored release date of October 14.