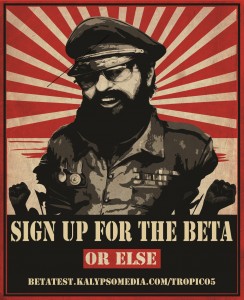 Are you ready to resume the role of El Presidente again? Well it's almost that time, as Kalypso Media has announced that the very much anticipated Tropico 5 is going to be holding a beta test sometime during March.
Registrations have been opened for this upcoming beta test, which is a little more strict than say the recent Titanfall or The Elder Scrolls Online. Rather than just asking for your name and email, this registration process is a little more detailed, required information such as Kalypso forum name and PC system configuration. The former is likely so they can see if you've posted about the series before, as they say they want those experienced in the genre for this beta test.
Probably the biggest additions to the series in this entry are cooperative and competitive multiplayer for up to four players. Other new features include advanced island exploration, scientific research trees, technology, and trading mechanics. If you are interested in this beta for Tropico 5, you can sign up right here and hope that you get selected.