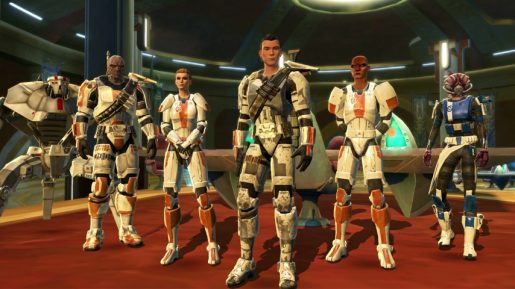 Free-to-play players of the critically acclaimed SWTOR of BioWare can finally play the much awaited Galactic Starfighter that introduces dogfight simulation with other players starting today.
With Galactic Starfighter, players will be able to team up with up to eight players and fight the opposing side in an intense dog fight simulation. Those who were annoyed in the on-rail space combat will be pleased with this new addition o SWTOR as they are now able to roam the galaxy with no limits.
New Gameplay Mode: Team Deathmatch – The goal is to destroy the most enemy players and acquire power-up items to turn the tide of battle.
New Starfighter Role: The Bomber – Decimate enemies playing as the Bomber, featuring the strongest hull of any Starfighter, and launch proximity mines and automated drones to defend your team.
New Tactical Flashpoint: Kuat Drive Yards – Join your friends to fight through a highly contested orbital shipyard with one of the most prolific warship manufacturing facilities in the galaxy. Available to players Level 15+, this new 'Tactical Flashpoint' is balanced for any type of group, comprised of any combination of the four class roles, ensuring you can get into the action quickly. Combat scenarios can change with each play-through and players can earn valuable rewards like the "KDY Orbital Lifter" mount, unique Starfighter Paint Jobs and more!
In addition to the public release of the Galactic Starfighter, those who previously enjoying the expansion will also be able to enjoy the newly introduced "Team Deathmatch" mode that is now available. As for flashpoints, a new one has been added where players starting from level 15 can enjoy a new neutral role instance.