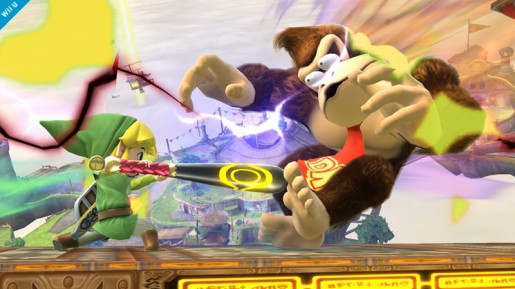 Ever since the first Super Smash Bros., one of the most unique elements of the series has been the items, some that have only been in one game, while others have become mainstays. It comes as little surprise, but Masahiro Sakurai has now announced the return of a very popular item from the past.
One of the staples in the series is the baseball bat, which has always had the potential to be one of the most powerful items in battle, besides ones like the hammer. However, this time the bat has a whole new look compared to the past.
Pic of the day. The Home-run Bat in this game is black! And it's so powerful that your eyes might bug out!!
Differing from most days, Sakurai actually provided us with two images to show off the returning baseball bat item. You better be getting yourself training to get that baseball bat swinging in battle when Super Smash Bros. releases for both Wii U and Nintendo 3DS this year. Tomorrow is the Japanese release of Donkey Kong Country: Tropical Freeze, so a lot of speculation is that we may see the announcement of the return of Diddy Kong. I guess we'll just have to wait and see!