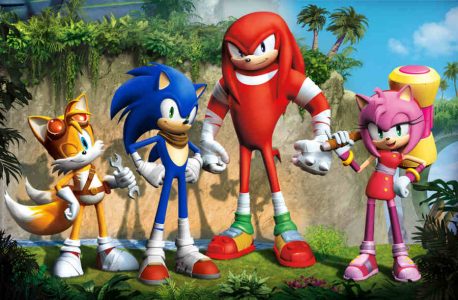 We were teased about the news of an a brand new Sonic television series last year, with us only knowing that it would be called Sonic Boom, along with one image with silhouettes of the characters. Now, the series has been officially unveiled, but that is not all. A Nintendo exclusive game based on the new series has also been announced.
The Sonic Boom TV show actually looks pretty solid based on the trailer that has been released. The CG animation style looks sleek and very fluid, unlike a lot of CG animation we get these days. The series will feature 52 episodes at 11 minutes long, which will debut at some point in 2014. Also, a few descriptions of episodes have been teased, which has made this one a must watch for me, at least for the last episode they tease.
Series executive producer Evan Pailey described episodes of the show where an overprotective Sonic fires Tails from sidekick and Eggman applies, Eggman tries to get into Modern Lair Magazine and, after losing again to Sonic for the umpteenth time, the archvillain fakes an injury and takes Sonic to court.
A game was also announced for the Wii U and Nintendo 3DS based on Sonic Boom. This is the third game in the agreement of three Sonic games exclusively for Nintendo platforms that was announced last year by Sega. Similar to what we saw with Pac-Man and the Ghostly Adventures last year, Sonic Boom takes elements of the TV show and brings them into a game. However, this will actually be a prequel to the TV series itself. It appears we will get to play as Sonic, Tails, Knuckles, and Amy based on this trailer as well.
For those interested in either of these, the reveal trailers for both the TV series and the game can be found below.