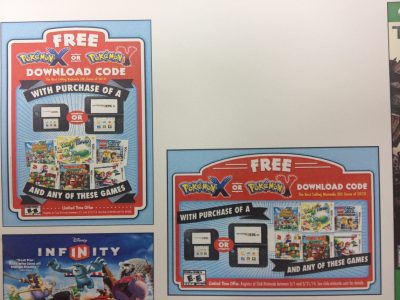 Part of a potential promotion from Club Nintendo, those that purchase a Nintendo 2DS/3DS XL and one of six select games can be eligible to receive a free digital copy of Pokemon X or Y.
The above picture comes from GoNintendo, seemingly from a Toys R'Us promotional display. This particular promotion falls in line with last year's program for new 3DS adopters where purchasing either Luigi's Mansion: Dark Moon or Pokemon Mystery Dungeon: Gates to Infinity and one new 3DS model would be eligible to receive a digital-copy of one of six 3DS eShop titles.
While Nintendo hasn't officially announced the program, it doesn't seem too far fetched. To be eligible for your complimentary copy of Pokemon X or Y, wait until March 1st to register the PIN code from a new Nintendo 2DS or 3DS XL as well as one of the following titles: Animal Crossing: New Leaf, Donkey Kong Country Returns 3D, LEGO City Undercover, Mario Kart 7, Super Mario 3D Land, or Yoshi's New Island. If this promotion holds true, you'll have a limited window until March 31st to register those Club Nintendo codes and be eligible for a digital copy of Pokemon X or Y.