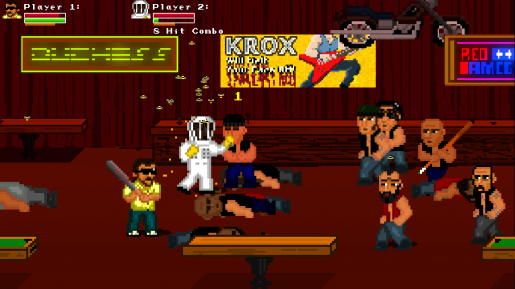 After already releasing on PC and Xbox 360 last year, old-school designed Fist Puncher has now made its way to the OUYA, as part of a two game deal for the console. Team2Bit's side scrolling brawler features plenty of interesting features, which you can see below:
-19 playable characters, including Dr. Karate, Steroid Jackson, Hella Fistgerald and the Beekeeper.
-Unique attacks and movesets for each character.
-RPG features allow you to assign attribute points to hone and sculpt your characters to your liking.
-Purchase perks including new moves and powers for your characters.
-Over 50 levels, from a nude beach to Hitler's birthday party.
-99 unlockable achievement trading cards – collect them all!
-Over 100 collectible items.
-Attack with tasers, slingshots, guns, bombs and more.
-Throw cars, cows, dogs, street musicians and whatever else you can pick up.
-Four player local co-op.
-Sexy pixel art graphics – like living in 1988!
Fist Puncher is officially available now on OUYA, so take a look out for it now.