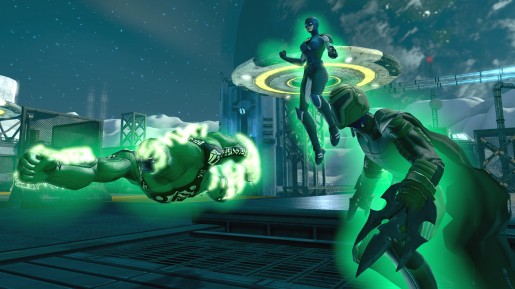 Sony Online Entertainment has announced that Update 34 has just rolled out for DC Universe Online, bringing with it a slew of tweaks and new features. Update contains content long anticipated by players, such as the use of Replay Badges to unlock feats obtained by a player's other character(s). Here's a brief rundown of the top features:
Feat Unlocking – Allows players to use Replay Badges to unlock feats they have already earned on their other characters. The system gives players the option to play and progress faster on multiple characters, promoting the development and use of alternative characters.
Green Aura – Green Auras are finally now available! For the first time in DCUO, players have access to the special aura, which is accessible through Promethium Lockboxes.
Revamped Moon 5v5 PvP Map – The original Moon PvP map has been revamped from a capture the flag map to a three-point capture and hold map, making it even more enjoyable and challenging for heroes and villains looking for a fight.
For a full rundown of how this new update will change your DCUO experience, head over to the game's official blog. If you'd rather see it in action, start up your copy on PC, PS3 or PS4 and dive back into your heroic deeds or villainous activities.