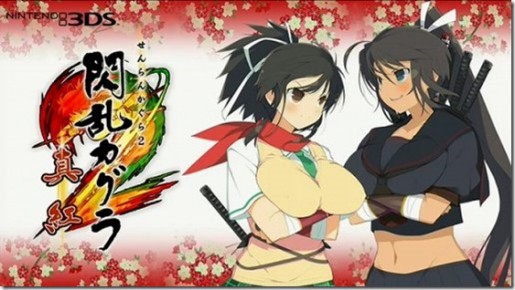 Just a few days ago, Marvelous AQL held a livestream online that unveiled the next mainline entry in the Senran Kagura series titled Senran Kagura 2: Deep Crimson, which will be coming to Nintendo 3DS on August 7. In the few days since that announcement, many more details have been revealed about the game, as well as the releasing of some screenshots and gameplay footage to show off how the next game in the series looks.
Senran Kagura 2: Deep Crimson already looks even better than it's predecessor, and it has been announced that the game will have full stereoscopic 3D. In Senran Kagura Burst, only cutscenes and events at the main hub area were in 3D, but the combat was not. That changes in this release as everything will now be available in 3D, which is of course quite fitting for the fanservice-like nature of the game.
Perhaps the biggest additions to the game are the introduction of co-op play and a tag-team mode. Co-op play is definitely available locally, but it has not been said if it can be done online yet. Tag-team mode is called "Pair Battle" where you can fight with two characters at once, rather than the usual one.
You can check out both the gallery and gameplay footage below: