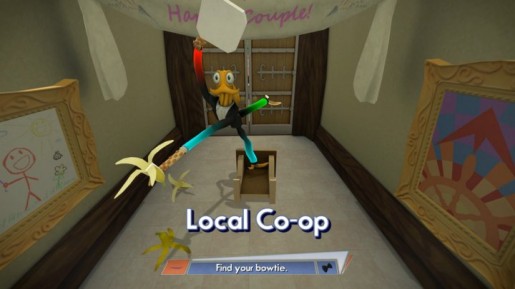 Octodad: Dadliest Catch is upping the insanity by supporting local co-op for up to four players. This announcement comes from the game's developer, Young Horses, who have apparently been toying with the idea of cooperative play for a while now.
We were talking about doing [co-op] for the longest time, and were trying to figure out whether Dadliest Catch would make players use one or two arms. We couldn't find a good way for one person to control both arms or a good reason for it, so it just kind of came from there. We tried it out and were like, hey, why not?
The point of the game is obviously to master those controls, but I don't think they're necessarily difficult once you get past the first tutorial portion," he added. "People think it's difficult, but they will surprise themselves.
One could only imagine what tentacle-based mayhem would have manifested itself in 8-player co-op. I guess we will never know. For now, you can enjoy attempting to coordinate each limb's movement with three of your buddies when the game launches on PC, Mac and Linux tomorrow. For you console owners out there, the PS4 version is currently targeting a March release date.