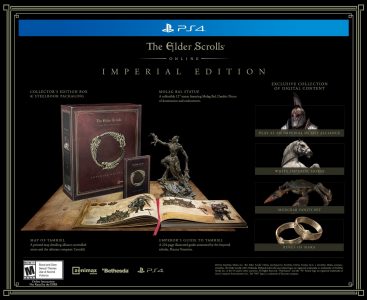 It looks like Amazon has leaked that The Elder Scrolls Online will be getting some sort of a Collector's Edition with Bethesda calling it an "Imperial Edition".
Based on the picture above, the Imperial Edition comes with an exclusive box, a steelbook packaging, a Molag Bal 12″ statue, map of Tamriel, and a 224-page illustrated guide book annotated by the Imperial Scholar, Falccus Terentius.
In addition to the physical items, it looks like bunch of digital items will be included as well. Those who will get the Imperial Edition will get the ability to play as an Imperial in any alliance, a White Imperial horse, a Mudcrab vanity pet, and the Rings of Mara.
When it comes to pricing, we don't know how much the Imperial Edition will cost. We will have to wait for Bethesda to officially announce it later this week.