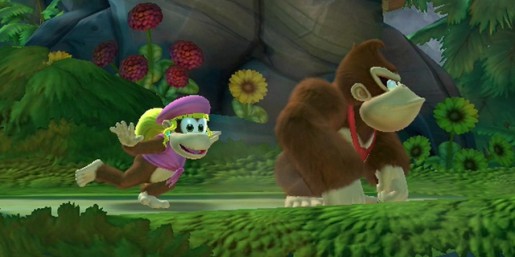 Donkey Kong Country: Tropical Freeze doesn't really for a few more weeks on February 21 in the US, but some interesting information came to light about the game today. The Wii U GamePad stays blank while you play, unless you choose to switch to off-TV play.
Unlike most platformers on the system that have mirrored footage of the game on the GamePad, such as Super Mario 3D World, Donkey Kong Country: Tropical Freeze keeps the screen blank, rather than including maps or a quick menu select. This could be good for battery life and those that have been annoyed by the mirrored footage, but could it possibly mean more?
With this being the first major Nintendo release to barely use the GamePad outside of off-TV play, could we possibly be seeing a GamePad-less SKU for the Wii U in the near future? I guess we will have to see soon, but it could be an option to lower the price to up the sales, especially ahead of big games like Mario Kart 8 and Super Smash Bros. Maybe the aftermath of the business structure meeting at the end of the month could shed some light on this possibility.