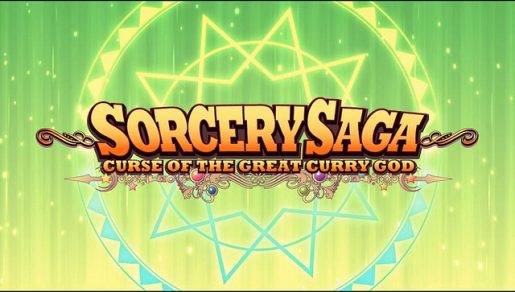 Sorcery Saga: Curse of the Great Curry God marks the first new entry in the previously Japanese-only Madou Monogatari series. Released in Japan as Sei Madou Monogatari, Compile Heart/Aksys' latest entry to the series shies away from the first-person dungeon crawling perspective and instead opts for a more specialized roguelike scenario. As Compile Heart's first localized project for the Playstation Vita, is Sorcery Saga: Curse of the Great Curry God spicy enough to entice players, or is better left simmering?
Sorcery Saga opens up with the charismatic heroine Pupuru on the morning of her midterm. Through sheer perseverance (and a lucky pencil), she manages to ace one of her midterms, one that bestows the highest score the honor to travel to a special tower and retrieve an orb for her teacher. After a brief but concise tutorial, she makes her way to the top only to find that instead of an orb lying in wait, there's a magical beast named Kuu (surely based off of the sounds it makes) that seems to have eaten the orb in addition to an old tome of curry recipes. Rather than taking Pupuru's word for it, her teacher opts to suspend her, giving Pupuru free time to explore just what lies in that book she discovered.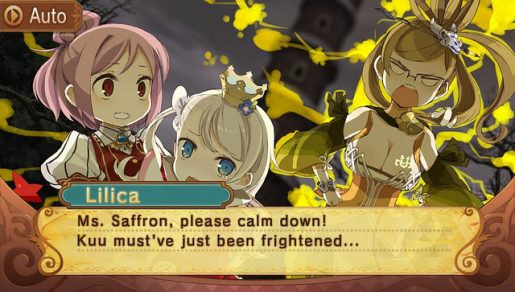 From that point on, Sorcery Saga: Curse of the Great Curry God doesn't opt for some grandiose scheme to save the world or rescue a kidnapped prince. No, Pupuru's quest is solely to crack the code of what's inside that tome she found and make a batch of the "Legendary Magic Curry." Along the way, Pupuru meets a number of eclectic characters, ranging from a small time curry chef that's losing customers to the evil mega corporate curry chain just down the block, a fortune-teller that seems to know how to translate Pupuru's tome and track down the missing ingredients, and a demon prince that's fallen in love with Pupuru on first sight despite having a fiancee in tow. It's the same sort of whimsical adventure you'd expect from a mainstay Atelier or NIS title, only with a spicy curry motif.
Sorcery Saga has its own distinctive charm that rubs off on all of the characters pretty well. Each of the characters engage in pretty casual dialogue with one another while each having their own personality in the text. Aksys did a phenomenal job with the translation and keeping the spirit of the original Japanese conversations alive (the Japanese audio dub is still available for those that are curious). The music is also another strong point of the game. So many of the tracks are filled with just a sheer sense of whimsy that mesh together with bits of English and Japanese to create some fairly catchy tunes. If you find yourself on a trapped dungeon floor that's completely overrun with monsters, you'll see what I mean.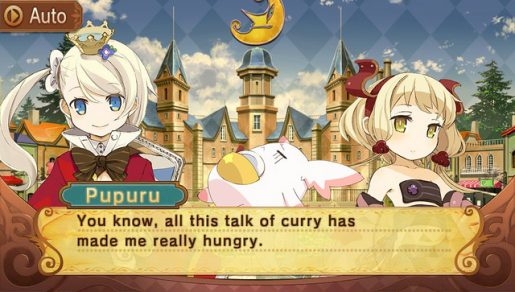 With a 'Curse of the Great Curry God' directly in the title, you'd expect there to be a few references to curry here and there. No, instead Sorcery Saga opts to drench your whole experience with the stuff. From a forgotten religion that used to worship the gods of curry to a crafting system solely dedicated to whipping up batches of curry on the fly, there's no shortage of the stuff. The only thing in more abundance in the dialogue are euphemisms and light-hearted dialogue. Lewd dialogue and innuendos are in no short supply during conversations, so you may find yourself wanting to skip past some skits if the action gets a little too heated.
Getting right down to business, Sorcery Saga: Curse of the Great Curry God is another entry in the famed Roguelike-style of RPG. Randomly generated maps and traps, turn-based gameplay, and a steep penalty for death that involves losing all of your gear. If you recall my review from last month on The Guided Fate Paradox, this is another similar title. Sorcery Saga takes a step back from the NIS-tried and true method of powerleveling and instead strips it all down to the basics.
Sorcery Saga: Curse of the Great Curry God (PS Vita) Review

,