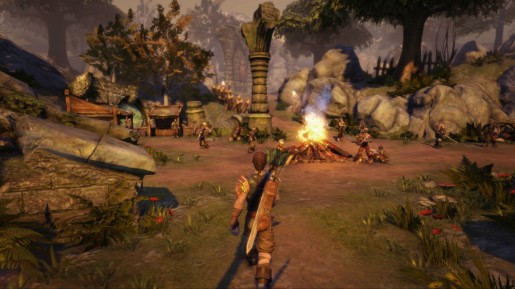 The original Fable was one of the biggest hits on the original Xbox due to its unique and rich content. The series was followed up by two direct titles and a spinoff, but now the series is returning to its roots with an HD remaster of the original titled Fable Anniversary. Now, Lionhead Studios has finally announced a release date for the game, February 4.
In what Lionhead Studios is calling the "definitive" Fable experience, Fable Anniversary is not merely a graphical upgrade, but much more. The game includes remastered audio, a new save system, a new interface, SmartGlass integration, achievements, and The Lost Chapters content.
The launch day limited run of boxes for the game will include some extra content as well that may entice you to pick it up right at launch.
• Scythe's Outfit
• A Black Graduate Outfit
• A Red Prophet Outfit
• A Blue Guard Outfit
• A Red Guard Outfit
• A Lute Weapon
• A Will User's Sceptre Weapon
Fable Anniversary will also include a 10th Anniversary Lion's – Head Avatar Helmet in honor of Lionhead Studios, the game's developer. Just remember, Fable Anniversary is an Xbox 360 exclusive, so don't be expecting to get it on Xbox One or PC.