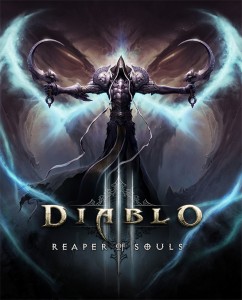 Diablo 3 is the end all dungeon crawler for fans of the genre. It seems that the first major expansion, The Reaper Of Souls has finally set a release date.
The new expansion will have a new hero; the Crusader as well as a new act to play through which includes the city of Westmarch. It all leads up to a battle with Malthael, the fallen Archangel of Wisdom. It also adds bounties which are randomized objectives that reward players for exploring Sanctuary. Nephalem Rifts which are randomized dungeons offering heaps of loot and endless replay. A new artisan-character, The Mystic who provides  heroes with loot customization options. All this and the raise to level cap to 70. This all comes with the standard edition which will be available in physical and digital editions for $39.99 / 39.99€.
Fans also have the ability to upgrade to the Digital Deluxe edition which has an exclusive helmet, a weapon transmogrification recipe, a Spectral Hound minion, three additional character slots, a World Of Warcraft companion pet; the Treasure Goblin, and a set of Starcraft 2 Crusader-themed Battle.net portraits. The Digital Deluxe will run you $59.99 / 59.99€. The retail-exclusive Collector's Edition will be available in limited supply and at select retailers for $79.99 / 79.99€ and will include a full-color hardcover art book, a behind the scenes two-disc Blu-Ray/DVD, and a mouse pad with Malthael on it. Fans will have no shortage of options when it comes to the release on March 25th, 2014.