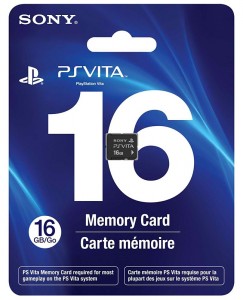 As part of the typical Cyber Monday celebrations, Gamestop is offering up brand new PlayStation Vita memory cards for half off.
Currently priced at $19.99, down from $39.99, the 16gb memory cards for PlayStation Vita offer up plenty of storage for those that just picked up a bundle online or need to upgrade from the stock 4gb card. You can get the 16GB cards available from Gamestop's website here. If you're in need of more storage, Gamestop also has the 32gb memory cards listed for $39.99. While currently sold out online, stores that still have stock on hand *MAY* honor the online price.
With PlayStation Plus getting better and better with its Instant Game Collection, expect your memory cards to fill up fast with all of the free games.