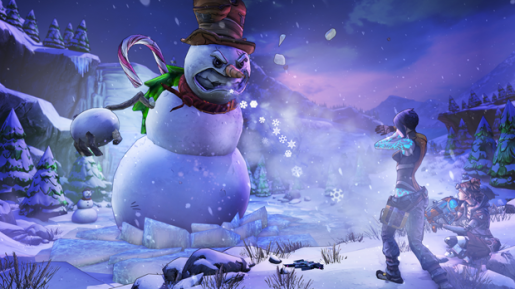 As we told you last week, Borderlands 2 is following up on its Halloween and Thanksgiving DLC with a Christmas themed Headheader add-on pack. Now, the How Marcus Saved Mercenary Day DLC is available starting today.
Beware as you wander around Gingerton, though. Mister Tinder Snowflake is a major Grinch and has buddies all around this frozen town that will come to his aid at the blink of an eye. But once you finally defeat Mister Tinder Snowflake, you'll unlock a big ol' snowman head for your Vault Hunter. Each character class gets a different expression as well as a festive new character skin, including a Santa outfit for Salvador the Gunzerker and an ugly sweater for Krieg the Psycho.
The new pack is full of Christmas goodness that you can own for a mere $2.99 on your Xbox 360, PlayStation 3, and PC. Feel the holiday cheer with this new Borderlands 2 DLC pack!