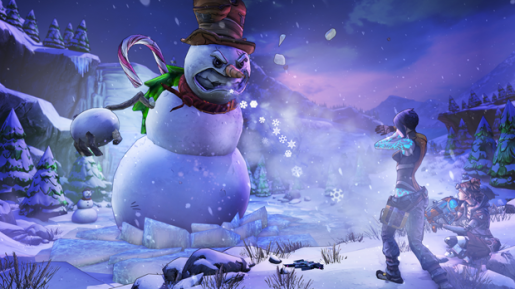 Gearbox Software has been feeling quite festive over the last few months with Headhunter add-ons for Borderlands 2 themed after Halloween and Thanksgiving. To cap off the year, Gearbox has developed another Headhunter add-on, this time based off of the Christmas theme.
For those in the Christmas mood, How Marcus Saved Mercenary Day is worth taking a look at when it releases on December 17 for Xbox 360, PlayStation 3, and PC.
In How Marcus Saved Mercenary Day, snowmen, holiday jingles and an ugly holiday sweater await in the snowy village of Gingerton all while a train full of Marcus's guns goes missing. This forces Marcus to enlist the Vault Hunters to search the town for the lost shipment – leading to a showdown against the terrifying Abominable Mister Tinder Snowflake. This fight took a lot of extra effort from our animators and visual effect artists to get his movements just right, so we're really excited for you guys to finally experience it!
To fit the holiday theme, each character class will receive a new expression and Christmas themed outfit, including a Santa suit for Salvador the Gunzerker