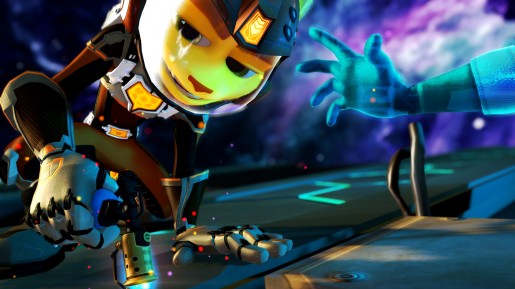 As for Clank, the cute little fellow will have his own moment to shine in the game just like in A Crack in Time. Whenever Ratchet is stuck in some sort of a rift that he can't go through, Clank will go in and destroy whatever anomaly is blocking it. To do that, you must guide Clank in a mind bending puzzles that the game calls "The Netherverses". The objective is simple, get Clank through the through the treacherous maze while having a Nether follow him. As soon the Nether crosses that rift, it will open up a path for Ratchet to go in. These segments will be done several times in the game and it gets really challenging depending on the difficulty you are playing on.
The weapons that Ratchet can use are one of the big things fans are always looking forward to. Smashing boxes and defeating enemies with a wrench is cool and all but it's more badass if you can use all sorts of powerful weapons. In Into the Nexus, there are a plethora of new weapons that are available that adds fun factor in taking down enemies. Some of the new weapons that you can see in the game are: Winterizer, which creates a tornado that turns your enemies into snowman, a Nightmare Box that puts fear onto your enemies, and the Vortex Cannon that creates a black hole sucking enemies in. These weapons are all available through the in-game shops but you need tons of bolts to buy these. As for the old weapons, there are several that makes a return like Mr. Zurkon and the Blaster.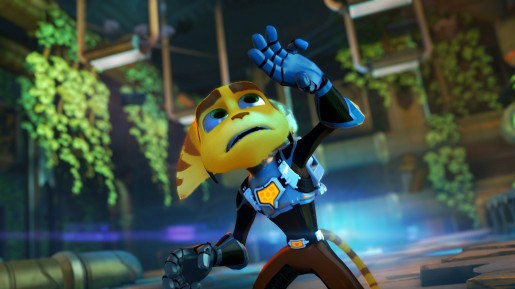 Ratchet's progression is similar to the past titles in the series. As you take down enemies, you gain points that fills up your experience bar. Bolts will be readily available whenever you take down enemies and whenever you have a lot, you can use them to buy armor or weapons for Ratchet to use. With so many weapons that Ratchet can use, you can expect to use at least half a million of bolts before you buy every single one of them. Well, if you are looking to upgrade your weapon, you can do so in the Into the Nexus, although you will need a rare ore that are found throughout the game. Trust me, finding those rare ores isn't as rare as you thought it will be.
When it comes to the visuals and presentation, the game still looks phenomenal. However, the game didn't improve much when comparing it to the Future titles that Insomniac released. The voice acting is phenomenal and the animation still looks like a Pixar film. There are some graininess on the cutscenes but the game still looks great, especially watching the effects that game makes when taking down enemies and you see all bots scattered around. Since this is the last Ratchet & Clank entry in the series, I am hopeful that Insomniac will continue the series forward on the PS4 by bringing more advanced visuals that will exceed fan's expectations.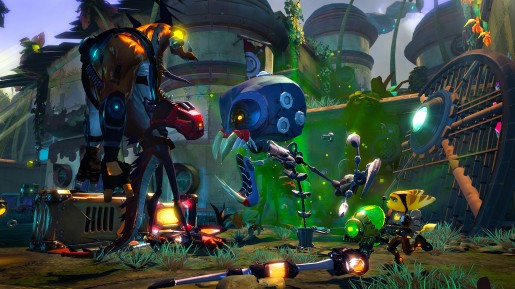 Despite being a short game like the Quest for Booty, which is included in this game, Ratchet & Clank: Into the Nexus still manage to hold that charm and addictive gameplay that enticed long time fans until now. Being the chapter that ultimately concludes the Future series, it's a nice reminder that the series have evolved into in the PS3 and hopefully, we see more of Ratchet's adventure on the PS4. For $29.99, the content that you get is justified, though don't expect it to be as grand as Tools of Destruction or A Crack in Time as you will just be disappointed since not a lot has been added to make this game rather unique. Into the Nexus is still a fun adventure that Ratchet & Clank fans will enjoy for the last time on their PS3.
[Editor's Note: Ratchet & Clank: Into the Nexus was reviewed on the PS3 platform. The game was provided to us by the publisher for review purposes.]
Ratchet & Clank: Into the Nexus Review

,