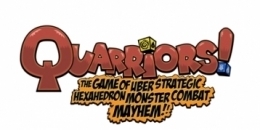 Quarriors! the upcoming strategic monster battling iOS title from the makers of the board game of the same name has received a new trailer that looks pretty cool.
The goal Quarriors! on the iPad is to create a faithful game based upon the board game created by Mike Elliot and Eric M. Lang. It will include a full tutorial for those new to the world of Quarriors!, along with single-player and multi-player with up to four players in pass & play mode or online through Gamecenter. For those who do not know, a 'Quarrior' is a mystical warrior that you will have to lead to the Empress as other players will be doing the same and try to sabotage you with creatures and spells. Check out the trailer below to see it in action.
Quarriors! is set to release soon for iPad and is compatible with iPad (2nd Generation), iPad (3rd Generation), iPad (4th Generation) and iPad Mini running iOS 5.1 or greater.