One of the biggest features of the PlayStation 4 is the ability to play the games right on your PlayStation Vita using the Remote Play function.
When the PlayStation Vita was released, Sony promised that gamers will be able to play their PS3 games right on the PlayStation Vita but that didn't happen as only certain games worked. Well, with the release of the PS4, Sony is bringing it all out as almost all of PS4 launch games are remote-play supported. Yep, if you have a PlayStation Vita, you can play any PS4 games using Remote Play and setting it up is simple!
If you have a PS Vita and connected already, then you're to good. However, those who are planning to buy a PS Vita this Christmas, here's the three easy steps on you can set up remote play:
Remote Play Set Up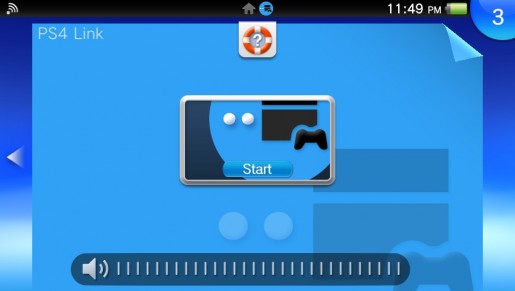 1. From the Home Screen on your PlayStation Vita, click the blue icon that says PS4 Link. If you don't find that app on your PlayStation Vita, update the latest firmware.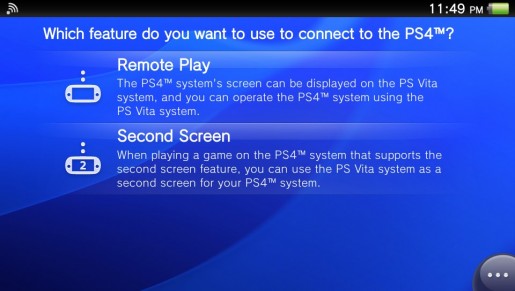 2. Upon accessing the PS4 Link app, you will see two options; Remote Play and Second Screen. Since you haven't set the remote play yet on your PS Vita, go ahead and touch the "Remote Play" option.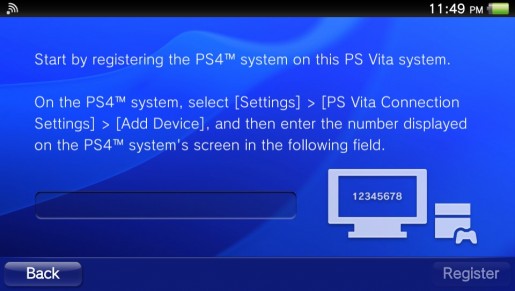 3. Now, to connect your PS Vita to the PS4, you will need a code from your PlayStation 4 to link it up. Go to your PS4 and [Add Device] under the [PS Vita Connection Settings] on Settings. Get the code, input it on PS Vita and you're all set.
Now…
– Please note that you need a decent WiFi connection in order to do remote-play as you will need your PS Vita to connect on your PlayStation 4.
– If you are outside the house and have access to a WiFi connection, you can play your PS4 games as long as your PS4 is in Standby mode.
– For games that requires the use of the trigger buttons, you will need to use the rear touch pad.