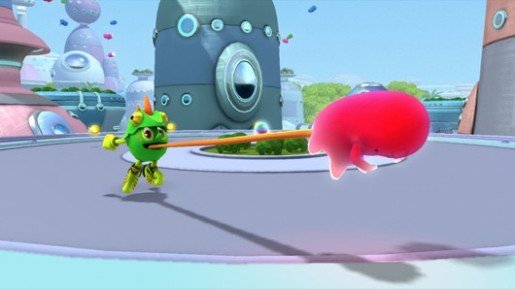 The power-up that I just really did not like at all was Chameleon Pac that is actually the second one you will come across in the game. It is required to attach to specific bars with your tongue to move between platforms, but it's not overly accurate at times, which can lead to lost lives. As aforementioned, the normal Pac-Man chomp attack is very fluid and easy to use, but Chameleon Pac actually ruins this by requiring you to be a lot more exact. The tongue movement is kind of slow and I found myself having a lot more trouble fighting enemies while using this power-up.
While I discussed above about how the game had pretty good level design, the problem after awhile became repetition. I'm not sure if it was a case of the game being rushed for the holidays or something else, but the game only featured four unique worlds while the last two were revisits to past worlds. The first four worlds you will visit are the city-based Pacopolis, the Ruins, the fire-based Netherworld, and the Ice Realm. This is followed by a revisit to Pacopolis for the fifth world and Netherworld for the sixth and final world.
The levels themselves are very well designed but there is just something missing in a good number of them, especially Pacopolis. For a city location, the world just feels too lifeless and should have had more than a couple NPCs standing around. They did a good job of having characters in the main hub school, but otherwise there are almost none of these to interact with during the game.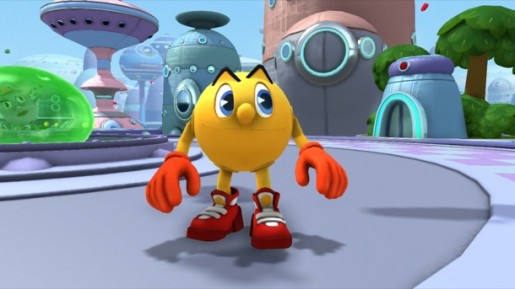 Considering that Pac-Man and the Ghostly Adventures is based off of a TV series, you would think that the game would feature some semblance of a story to keep up with. However, there really wasn't much there overall. As a classic Pac-Man fan, it was odd to see him being friends with Blinky, Inky, Pinky, and Clyde, as the are secretly helping Pac-Man against the villanous Betrayous. You may want to avoid the rest of the this paragraph is you are afraid of any spoilers, but overall this isn't going to ruin anything for you. I was quite annoyed by part of the ending as they tease how you've only faced two temples and there are more to go after that they have found. Pac-Man follows this by saying something like "Lunch Time" and the game just ends abruptly. Like I said before, it just seems like this game was rushed to be out for the holiday season to coincide with the new show and led to a very short game.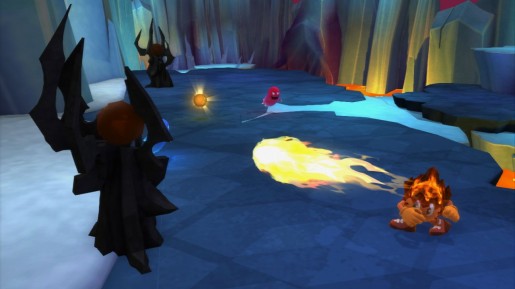 The boss fights in this game are pretty few and far between, but were pretty solid, albeit a little easy. Each one requires a different strategy, some of which need the use of specific power-ups. One of the more interesting ones was actually more like a mini-boss, where you face off against a chef enemy. The fight takes place on a grill as you have to eat food he throws through multiple rounds until he eventually gives up.
Overall the game is a pretty easy experience, especially with the enemies. Most of the difficulty you will find with this game is with the levels themselves by falling off a platform rather than have an enemy ghost take you down. There overall isn't a lot of variety in enemies as you will see pretty much the same ghosts throughout the entire game, so before long you will know how to take all of them down with ease.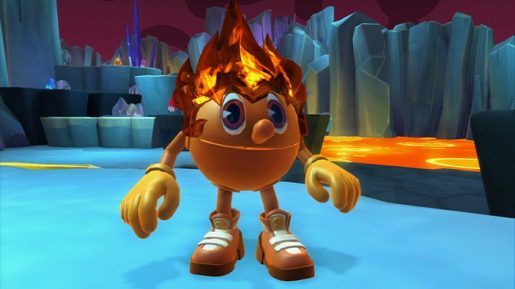 Before I started playing Pac-Man and the Ghostly Adventures I definitely did not have the greatest of expectations, as quite a number of games based on television shows have been prone to be mediocre at best. However, this game actually did surprise me quite a bit with fantastic platforming action and a variety of different power-ups that shook up the game as I played through. This was sadly brought down to the repetitiveness of the last two worlds and enemies.
For the most part, the game is quite easy, so it definitely would be a great experience for kids that are fans of Pac-Man and the Ghostly Adventures, or maybe even just kids who enjoy 3D platformers. While the game may be short, luckily the title is only priced at $39.99 if you want to pick it up. I'd recommend at least renting the game for anybody that enjoys solid platforming action, as it delivers that at the very least from beginning to end.
[Editor's Note: Pac-Man and the Ghostly Adventures was reviewed on the Xbox 360 platform. The game was provided to us by the publisher for review purposes.]
Pac-Man and the Ghostly Adventures Review

,