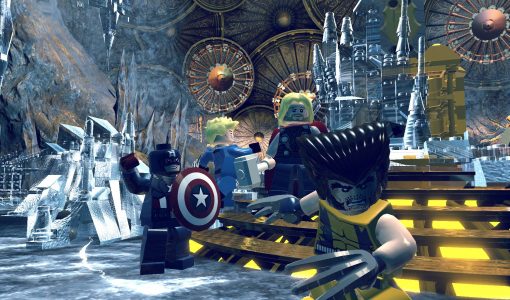 Embedded within all of this is the tried and true LEGO formula: break, build and collect. It's a simple formula, but one the developer's continue to find ways to improve by striking a fine balance between simplicity and complexity. This balance is what gives the game such a wide audience. Younger gamers can waltz through the campaign, trying out their favorite hero without the fear of an overly aggressive death penalty, while more seasoned players can enjoy going for the coveted 100% completion by unlocking all characters and using said characters to revisit previously unsolvable puzzles. And I think we can all agree that breaking everything in sight to spill out studs is entertaining regardless of age.
LEGO Marvel keeps you hooked by sticking to this setup and spanning it across recognizable and visually stunning locations, such as the hovering S.H.I.E.L.D. Helicarrier and an open-world Manhattan playground. Our brick-built superheroes are thrown into the fray right away, with Iron Man and the Hulk teaming up in the very beginning as the fight off Sandman and Abomination. Spider-Man, Captain America and others soon jump in to fight off the onslaught of pesky evildoers and you'll see some iconic face-offs in the opening moments, ones that will excite your inner geek. If for whatever reason you don't find the team-up you're looking for during the campaign, the unlockable Free Play mode will let you run wild with whatever hero squad combination you wish to create, even if that includes H.E.R.B.I.E. and Carnage fighting side by side.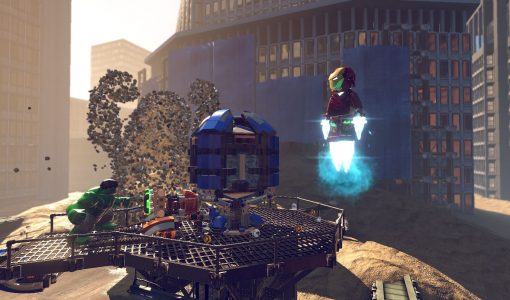 LEGO Marvel Super Heroes succeeds in many regards, but the biggest threat this game faces isn't the slew of supervillains. This new entry suffers from various technical issues that detract from the overall experience. Frame rate issues were noticeable during gameplay, especially in co-op, and even progress-blocking bugs cropped up a couple times, requiring a level restart. Extended gameplay also revealed weird AI trends where your buddies and/or civilians would become stuck on objects while attempting to navigate the environments. While annoying, it's hard to focus too much on these issues when you're crushing the opposition in Hulkbuster armor or whipping Loki around as the Hulk in an attempt to recreate the hilarious scene from the Avengers movie. The extent to which these issues impact players' enjoyment is sure to vary from person to person.
Looking at the big picture, that which LEGO Marvel Super Heroes offers helps alleviate the most of the sting from the handful of issues that appear once in a while. Hopping around as a teapot-shaped Mr. Fantastic, viewing Wolverine's Adamantium-coated skeleton and controlling the all-powerful Stan Lee are memorable moments that must be experienced by both LEGO collectors and Marvel fanatics. In the end, LEGO Marvel provides a mostly polished and extremely entertaining superhero experience that meets our high expectations of LEGO games.
LEGO Marvel Super Heroes Review

,